Here is a list of games that feature the popular actress from the movie Twilight, Kristen Stewart:
Bella Dressup
Bella, from the Twilight movies, is in need of some help dressing up. Help her to choose an outfit using the various options in her closet. Bella Dressup gives you the chance to play with your own creativity and have fun with one of your favorite characters from the movies.
Vampire Couple Love Kiss
The Twilight on and off screen couple Robert Pattinson and Kristen Stewart are low-key in real life. But we catch them kissing in public! So epic! Play this fun makeover game and decide what they should wear for this sweet kiss! Have fun!
Kristen Stewart Dress up
Kristen Stewart Dress Up is exactly what you think it is, a game where you are going to be dressing up Kristen Stewart. Whether you want to play with designs or you are a huge fan of the actress, this game offers a lot of enjoyment and wonder for every player.
Celebrity Makeover 8
Young Hollywood celebrity Kristen Stewart is attending a Hollywood bash tonight. This beauty is confused about her looks. She just can't decide the right look for the bash. Help her out of her predicament. You will need all your skills to make this beauty look her best. Handle her makeup with care.
Make up Kristen Stewart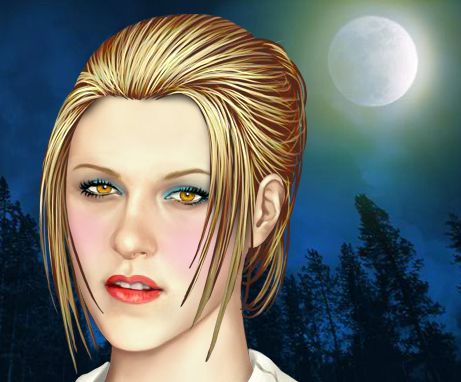 Are you an adoring fan of Kristen Stewart? If so, or if you just want to have some fun, you should play Make Up Kristen Stewart. Give her a make over and make her look fantastic. You have a lot available to you to create a unique appearance that is sure to bring out her beauty.
Twilight Eclipse Dress up
Dress up your three favorite Twilight characters, including Kristen Stewart, in Twilight Eclipse Dress Up. This fun and exciting game has a lot to offer as far as looks. Create some wonderful outfits and then show them off side by side when you are finished so that you can admire your work.
Bella A Vampire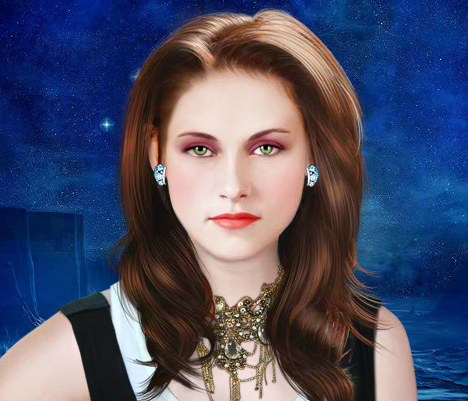 Bella A Vampire has you dressing up Bella from the Twilight movies. Give her a new appearance that matches her being a vampire. Make her look fearsome, beautiful, or however else you want. With what is available, it is not going to be hard to make the outfit your own.
Krisbella Swan Dress up
Krisbella Swan Dress Up is going to have you dressing up Bella Swan from Twilight. Played by Kristen Stewart, a lot of people love her because of her appearance. Keep her fashionable and looking good for whatever dangers she is going to have to face, and all while having fun.
Twilight New Moon Kissing
Bella is having a hard time choosing between Jacob and Edward. In Twilight New Moon Kissing, you are going to be switching between the two boys and kissing each of them. Make sure that neither of them catches you kissing the other if you want to succeed in this game.
Edward and Bella Makeover
Edward and Bella Makeover has you giving both Edward and Bella, from the Twilight movies, a makeover. Have them looking great in no time and make them look however you want them to look. It is a lot of fun for the fans of the movies who want to release some creativity.
Twilight Dress up
Are you a fan of the Twilight movies? If you are, or if you like dressing up, check out Twilight Dress Up. This game gives you the chance to dress up both Bella and Edward however you want. You have a closet full of fashionable, attractive clothes to put onto them.
Bella Edwards Eternal Love
Bella Edwards Eternal Love is about showing that the two care for each other in a fun way. You are going to have them kissing in various areas without being caught. Try to fill up the love gauge, make the curious go away, and avoid catching the attention of anyone around you.
Bella Bride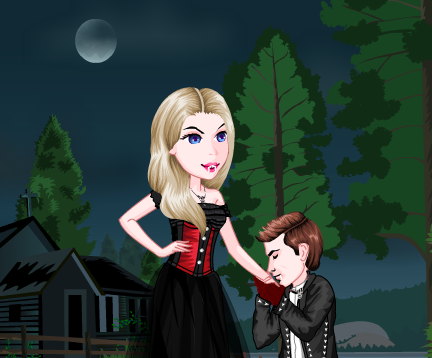 Before Bella and Edward are married, they are going to have to get dressed. In Bella Bride, you are preparing the both of them for the wedding by getting them into formal attire. Change everything about them until they match what you want them to look like for this day.
Eclipse Wedding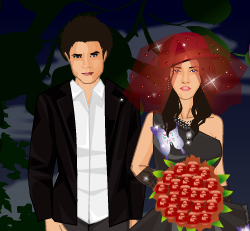 Dress up both Edward and Bella in Eclipse Wedding. Using the various options that are available, create the perfect outfits for their wedding day. You are going to be able to dress them up in trendy, attractive clothes that are sure to make their walk down the aisle look great.
Twilight Kissing
Bella is switching between Jacob and Edward in Twilight Kissing. Make out with both of them without the other finding out. When you see them coming, make sure that you stop. Continue kissing after they leave to bring up the love meter. Try to kiss for as long as possible to keep the meter from dropping too much.
You can also check out our list of Famous Actor Games and Twilight Games to enjoy fun time with your favorite celebrities.