Here is a list of games that feature the actress from the the novel and movie "Harry Potter", Emma Watson:
Dress Up Emma. Goodbye Magic Story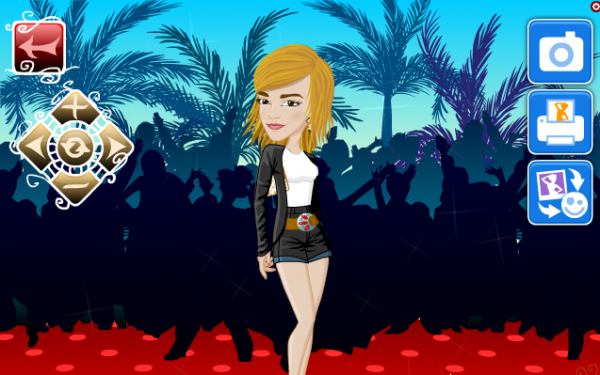 Dress Up Emma. Goodbye Magic Story is Emma Watson getting dress in beautiful clothing. You are going to be able to put together a stunning outfit that everyone will love, and then share it. Print it out and show it to everyone around you, or start again and create something new.
Celebrity Face Mania
How well do you know the face of your favorite celebrity? Do you recognize all the facial parts of Daniel? Mix it with all the other celebrity faces and see if you can still fix him in this free mobile game, the Celebrity Face Mania.
Dressup Wizard Emma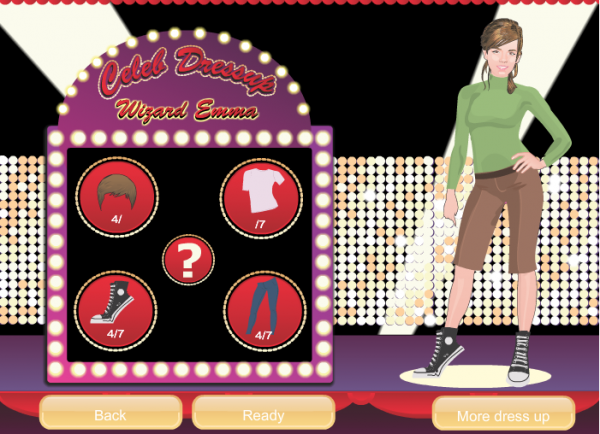 Emma may be magic, but she cannot do everything herself. In Dressup Wizard Emma, you are going to be making sure that she has the best clothes on. Put together outfits that she will want to wear and then watch as they come together. You are going to adore the outfits that you create.
Emma Dress Up
Dressing up Emma in Emma Dress Up is going to be a lot of fun. This is the perfect opportunity to release some of your creativity. You are going to be able to create outstanding outfits that everyone will love. Make people jealous of your incredible fashion sense and help Emma.
What now Harry
Follow Harry, Ron, and Hermione in What Now Harry. It is a parody of the original movies that shows what life may be like if things where just a little different. It is full of humor and entertainment at every turn, and it is a great game for any fan of the movies.
Emma the Actress Dressup
Any fan of dressing up is going to adore Emma the Actress Dressup. This game offers a model that you already love along with a large selection of stuff to wear. Play with what is inside of the closet until you create an outfit like no other. Make others jealous of your fashion sense.
Friends Forever
Friends Forever really shows that the Harry Potter gang is really going to remain friends. Have fun and play with all three of them here. If you are a fan of the movies, this is going to be one of the many games that you want to play for some fun and excitement.
uWizard
Test yourself with uWizard. It is a quiz that will help you to realize just what kind of wizard you would be if you were in the Harry Potter universe. There are numerous questions that cover a lot about you, so make sure that you answer them fully. Find out just what kind of wizard you are.
Wordcross 15 Wizard!
Wordcross 15 Wizard! is exactly what you would think, a wordcross. You are going to be finding the names of the many wizards that you know and love. Have some fun here and challenge your mind. You can find them all with ease if you look and really put yourself to it.
Wizard Couple Dressup
Wizard Couple Dressup is going to have you dressing up wizard couples. Make them look however you want them to look and have a little fun with it. You are going to be able to create unique outfits that look like you, your friend, your favorite wizard, or anyone that you can imagine.
Emma Watson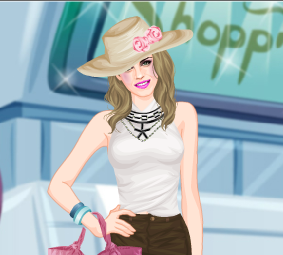 Give Emma Watson a makeover so that she looks absolutely stunning. There are plenty of options and different ways for you to customize, so have some fun with it. Use your creativity and sense of style to put together a look that will amaze the crowds and make everyone jealous.
Dress Up Emma Watson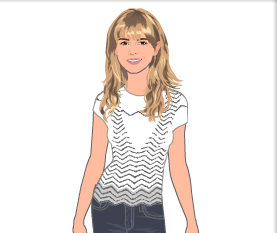 Fans of Emma Watson or anyone who enjoys dressing up in general will want to play Dress Up Emma Watson. Give her a new and fantastic look that is going to have people jealous. You can use your creativity here so have fun with it. Make an outfit that you are proud of and that you love.
You can also check out our list of Famous Actor Games to enjoy fun time with your favorite celebrities.