May is over, but gaming developments are heating up! A combination of three different pieces of hardware now allow you to feel as if you're riding a Hoverboard, Galaxy-developer Samsung may or may not be making their own VR headset, mobile gaming just got easier and the internet is overflowing with free games!
Wanna Ride a Hoverboard?
Perhaps one of the coolest aspects of all of the new technology coming out these days is seeing creative-types combine them with existing hardware. Most recently, Quince combined the Wii Balance Board with Kinect and the Oculus Rift to create a virtual reality Hoverboard. Although the graphics are not on par with what the average person expects out of new games, it's still pretty cool.
The Wii Balance Board acts as the controller, the Oculus Rift provides the immersive visuals, and the Kinect tracks your movements and runs this to the Rift to round out the experience. As you can probably imagine, the entire setup is rather clunky, to say the least. But if you've been dying to test out a Hoverboard (which we all thought would be here by 2014), it's definitely cool!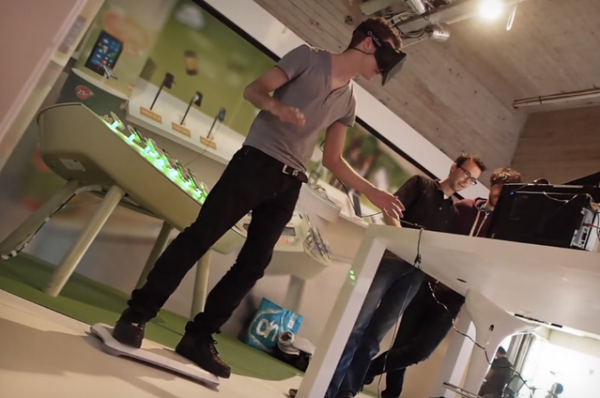 Samsung Entering the Virtual Reality Industry?
Samsung has done what other companies have tried and failed at: given the iPhone a run for its money, with the Galaxy S5 outselling the iPhone S5 at launch by 7-percent. And now, rumor has it that Samsung is eyeballing the virtual reality market. And they may be releasing their own VR headset sometime this year!
Originally reported by Engadget, apparently Samsung is developing their own VR headset that will work with their smartphones and tablets. Of course, this hasn't been confirmed by the company, and they've remained mute over the last year and a half about any efforts regarding delving into this market, which is currently made up of several smaller companies and only two big-names: Sony with Project Morpheus and Facebook with the Oculus Rift.
We'll see what the company says in the coming months!
New Gaming Controller For Smartphones
As mobile games become more and more prominent, people quickly found that the standard smartphone wasn't exactly equipped for involved gaming. PhoneJoy has answered this issue, creating a Bluetooth game controller that works on both iPhones and Androids. It features two analog sticks, four action buttons, four shoulder buttons, and a D-pad as well as start and back buttons.
PhoneJoy attaches to both sides of your phone, either vertically or horizontally, with a nifty little attachment piece that prevents the whole thing from falling off mid-game and a spring system that stretches to accommodate the size of most smartphones. So, you can play in portrait and landscape mode! And if you'd prefer, you can wirelessly connect the two and just use the controller on its own with the smartphone as a screen, rather than having them connected; for this reason, it also works well as a controller for your tablet.
As with most awesome hardware these days, PhoneJoy started off on Kickstarter. You can now buy it for $79 through Amazon. The package consists of the controller, a carrying case, two pass through adapters so the controller doesn't block your microUSB socket or audio jack. And if you feel like spending an extra $10, you can get a hard case and a kickstand that fits on most tablets, making it easier to set yours up as a screen and use the PhoneJoy as a wireless controller.
Free Games
Looking to try out new games without dipping into your allowance? Here are the best freebies for download right now!
Safety Blanket: Part horror and part childhood throwback, this free game requires that you keep a kiddo safe at night by covering him/her up with a blanket that doesn't quite fit. What happens if you fail? The monsters get ahold! Move the blanket around as monsters and shadowy figures begin attacking exposed limbs, and try to ensure the kid stays asleep until morning: the last thing you want after a night of fending off monsters is a cranky, over-tired child!
The Last Night: If you love Flashback and Blade Runner, then check out this cyber-punk inspired game that has you looking to "get" your mark hit-man style. Short and sweet, it'll give you a good glimpse into the minds of game developers and brothers Tim and Adrien, who are also working on their first full-fledged game.
The Sun and the Moon: Delve into this puzzle game that has you attempting to get various objects from hard-to-reach areas while playing as a ball that can, with the right prep, go right through walls!