Hi there! Ready to see what's happening right now in your favorite virtual worlds? One of the longest-standing online universes is gearing up for the (yet unspecified) release of the Rift, Club Penguin has an eye to the future, Smeet has a new room to play in, and WoozWorld has made its debut in the app store! Let's get started!
Second Life and Oculus Rift: A Perfect Couple!
Second Life has been on the forefront of virtual worlds and reality for over a decade, and this week they announced their plans to utilize the Oculus Rift and similar technology for their incredibly expansive virtual world!
Linden Lab, creator of Second Life, has been testing a version of the Second Life Viewer that utilizes the Oculus Rift. This is a super-limited beta version, but it's their first step in getting the site ready to handle the new hardware when it comes out, working out any bugs well ahead of time.
This new Project Viewer runs the entire Second Life UI and HUDs without any limitations, allowing users to customize the settings so that the view works best for them. It includes head-tracking so you can look where your avatar is, first-person view that allows you to use your mouse or keys if desired to interact with the world, and the ability to use head turns to point your avatar in the direction you want to go simply by looking there.
Second Life did have to modify the world just a bit so that it runs smoothly on the Rift, but they're convinced that users won't be able to tell the difference; interaction and visuals are essentially the same as they would be on your computer screen.
For the lucky few that already have a Rift, you can download the new Project View here!
Club Penguin Future Party
Over at Club Penguin, the Future Party starts today! You'll be able to find Gary 3000 in various locations between now and May 28th at different servers. There are four meet-ups scheduled for May 22nd, one on May 23rd and 24th, four on May 25th, 27th and 28th, and a whopping five on Monday, May 26th!
Check out the full schedule here!
The entire party runs from today to June 3rd. As you play, portals appear and take you forward in time, allowing you to visit future versions of the island and placing you in the midst of battles. You'll have to save Penguin Island from robots and asteroids and engage in other quests! Members get the added bonus of customizing robots to enhance their fighting capabilities, and throughout the event, Club Penguin will be releasing special items during different quests.
Check it out ant let us know how you're faring in the comments below!
New Room in Smeet
Virtual world Smeet unveiled a new room a few days ago! You get to choose between Smileys and Smeanies (good and bad monsters), and battle against the other side!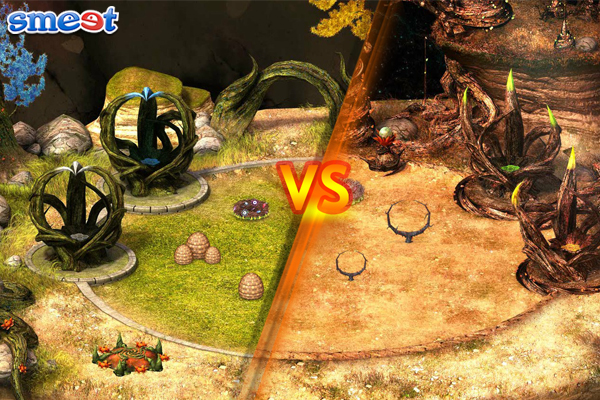 Start by going over to the Smeekie Zoo and complete a simple task to unlock the room. Depending on whether you choose (a Smiley or a Smeanie), you'll have access to a different world. In the Smiley World collect honey and flowers to feed the nests and get your own Smiley. Help it grow and then send it through the portal to fight the other side. It works about the same in the Smeanie world: collect spiders and ooze, feed it to the nest, and help your monster grow!
In order to finish the room, the good guys will need to earn 100 Smiley points and the Red Smiley, while bad guys need to collect 100 Smeanie Points and the Red Smeanie to finish. The room itself is free, but you will have to buy monsters to complete it, the most expensive being the final Red monster (100 coins).
Once you complete the room, your efforts will be rewarded with 100,000 fame points, 200 room-specific points, and if you're on the winning side, you'll get a badge and additional fame points!
WoozWorld Available in iTunes
You asked and WoozWorld answered! The game is now available in iTunes for iOS 7 devices! The new app encompasses the entire world, allowing you to play on the go or at home curled up on the couch.
Of course, WoozWorld creators are super excited about this new development, and they want to celebrate with you. If you download the app between May 27th and May 31st, you get a free gift! After downloading, head on over to the Exclusive WoozWorld App Lounge and click on the white chest. They've also developed a varsity jacket exclusively for the app, which becomes available May 22nd.
Download the new app here!
YoVille Gets New Life as YoWorld YoVille fans had their hearts broken a few months ago, when then-owner Zynga announced it would be shutting the virtual world down. But Big Viking Games, co-founded by the original creator of the much-loved world, stepped in after fans pleaded and petitioned with a furious passion, and that passion […]
Today, we have a new addition to the virtual world community, an exciting update from Valve, and plenty of new games for you to check out on your iPhone this weekend! Club Penguin Now Available on iPad! Club Penguin, with over 7 million subscribers, is one of the largest virtual worlds for younger generations. And […]