Here is a list of games that features the fictional character from various children's stories, Peter Rabbit.
A Winters Tale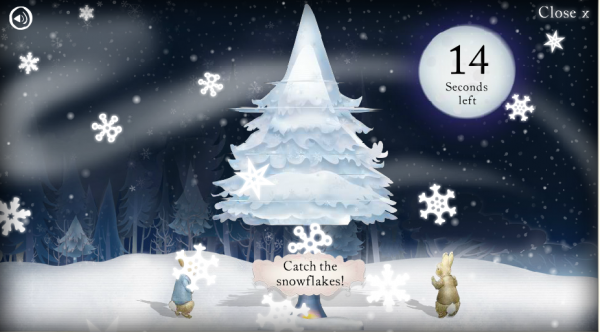 Experience the magic of Peter Rabbit's winter wonderland in A Winters Tale. The game has a magical storybook feel that will capture your imagination and draw you into its mystery and wonder. Set in winter, the snowflakes are falling in a winter landscape that is fresh and ready to explore.
Find Peter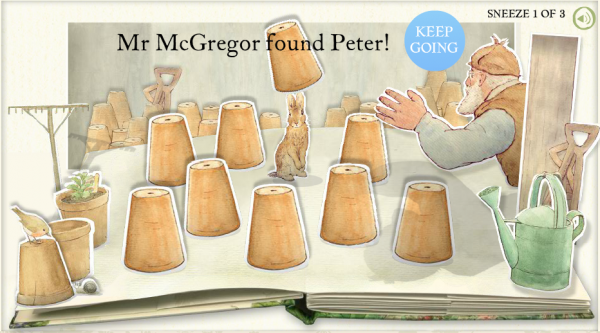 Find Peter rabbit in this game. If you love hide and seek games, then this game is going to be perfect for you. Helping to find Peter is fun and exciting. You won't want to stop playing this game when you're told game time is over. It's a game you can play over and over again.
Peters Net Maze
Help Peter escape from Mr. McGregor as he chases him through the garden. Spin the wheel to move through the garden and answer questions along the way to help Peter through this net maze. All of the answers to the questions can be found in The Tale of Peter Rabbit!
Vegetable Picking Game
Peter Rabbit is enjoying fresh vegetables from Mr. McGregor's garden. You can help Peter pick as many vegetables as he can by clicking on them when they pop up. You'll get an even higher score by picking onions and radishes from the garden. Just remember not to pick the flowers in all of the excitement.
Peter Rabbit's Garden
Come along with Peter Rabbit and all of his friends after he barely escapes from Mr. McGreggor's garden. You can help the characters build their very own garden. Planting harvesting and bringing your crops to the rabbit marketplace are just some of the fun times you'll enjoy in Peter Rabbit's garden.
Peter Rabbit Hide and Seek
Hide and seek is always a fun way to pass the time. Now you can join Peter and his friends as they play hide and seek in all of your favorite places from the story books. Choose your character and find who is hiding out with a special magnifying glass.
Peter Rabbit HD
This is an adaptation of the beloved children's tale, Peter Rabbit by Beatrix Potter. This cautionary tale warns children of the consequences when they misbehave. Mischievous children will learn not to overstep their bounds in this fun tale as Peter Rabbit gets into trouble by exploring in Mr. McGreggor's garden.
Peter Rabbit Fruit & Veggie Downhill Dash
Join Peter Rabbit in the fruit and veggie downhill dash. This game is nonstop excitement as you help Peter and his friends get all of their fruits and veggies back after losing them down the hill. Remember, a good rabbit never gives up on trying to recover his fruits and veggies.
Peter Rabbit (Story and Games)
Follow young Peter Rabbit along his path of mischief and disobedience through Mr. McGreggor's garden in the classic tale of Peter Rabbit written and illustrated by Beatrix Potter. This book also features a "Read To Me" page along with fun games such as the coloring page, picture puzzle and draw something.
The Tale of Peter Rabbit with Puzzle Pictures
Not only does this include the popular children's story, but it also has 26 hidden picture illustrations. In the puzzles, each illustration opens as a black and white image and you have to unlock the full-color version. The coloring book allows you to explore your creativity with over 30 color choices.
You may also want to see our lsit of Pet Worlds, Educational Worlds For Teens and Educational Worlds For Tweens for more fun learning experience.