OVERVIEW
February 19, 2019
PLATFORMS
PC, Mac, iOS, Android
LANGUAGES
Arabic, Danish, Dutch, English, French, German, Hungarian, Indonesian, Italian, Japanese, Norwegian, Polish, Portuguese, Spanish, Swedish, Turkish
MADE IN
Redwood City, CA, US
ESRB RATING
Sexual Content and Nudity, Mature/Suggestive Themes, Horror/Fear Themes, Cartoon or Fantasy Violence, Profanity or Crude Humor, Alcohol, Tobacco, or Drug Use or References
Positives
Large playerbase. | You can meet people from all over the world.
Negatives
Bubble chat can be difficult to read.
Bottom Line
IMVU, overall, is not that different from when it first launched. It has updated, the selection has grown, the community has grown, and there are more features, but it remains the same at its core, a game to chat and dress up easily.
You have rated this
IMVU, created in 2004, has attracted a lot of attention over the years. You have probably come across an advertisement at one point, or even looked into it. If you have not, however, or if it has been a long time since you checked it out, you might want to know what it is like or what is new. IMVU, overall, is not that different from when it first launched. It has updated, the selection has grown, the community has grown, and there are more features, but it remains the same at its core, a game to chat and dress up easily. The extras and the changes do help to make it stand out a bit more, though. With competition coming out all of the time, it is important for IMVU to better itself.
The Competition and Similar Games
IMVU is not alone. Plenty of other games offer ways to chat and dress up, but also have their own twist on this type of game. It is important to know that, even though these games are similar and are competition, they are not strictly the same. The basics are the only constants. Each game has its own art style, features, community, and overall design. Some of the games out there are:
Both offer chatting and dressing up and have similar art styles. Second Life has a different approach to chatting, though, because it is also a simulation game. You can meet people in this world, but it does not stop at talking. It allows you to have a virtual life, which is something you do not have with IMVU.
WeeWorld, too, has chatting and dressing up. Its art style and the world are incredibly different, however. It is more like chat rooms instead of a one-on-one communication. While IMVU does offer chat rooms, they are generally not a major part of the game.
Gaia is similar to WeeWorld, but with a fantasy setting and old school RPG art style. The art style and clothing that you see are indicative of the type of people who come here. It caters to the anime, science fiction, and JRPG fans.
IMVU is similar to The Sims in only a few ways, but fans of one might like the other. You can dress up an avatar any way that you like, you have access to items made by a community of players, and you can speak with people on message boards.
Truthfully, there are no games exactly like IMVU. The same is true for the games above. They have their similarities and players of one might enjoy the other, but they are far from identical.
Signing Up and Downloading the Client
Signing up takes little to no time at all. Choose your default avatar, put in basic information, and continue. You will then come to the download option. There is a download button on the website, as well, if you already have an account or wanted to check out the site instead. On the top of every page, you will see your username and you will see Account, Download, and Help. Click download to get to the download client page, or back to it. You can choose to download with Search Protect, giving you an extra 1,000 credits, or you can download without it. Search Protect, if you do not know, is common with free programs. It is not harmful to your computer, but you might not want it and your computer might not like it. It is an annoying downside for nearly every free program out there. There are ways to remove it if you want the 1,000 credits.
Using the Client
Using the IMVU client is simple stuff. After signing into your account, you will come face to face with your avatar. He or she will move and look around, waiting for you to do something. Before you make any choices, however, check out the options. They are:
Dress Up – This is your wardrobe. When you collect more items, you can go here to wear them.
Shop – Check out the shop to see what is for sale. Here, you can directly buy any item that you want as long as you have the credits for it.
Credits – Purchase credits, the in-game currency, using real life currency.
Chat Rooms – Find a chat room to meet people. They each have different themes and people.
My Room – Go to your very own room. Add furniture and try to make it unique.
Inbox – Read messages sent to you by IMVU and other players.
Chat Now – Chat with a random person. IMVU will find someone else online and bring you two together.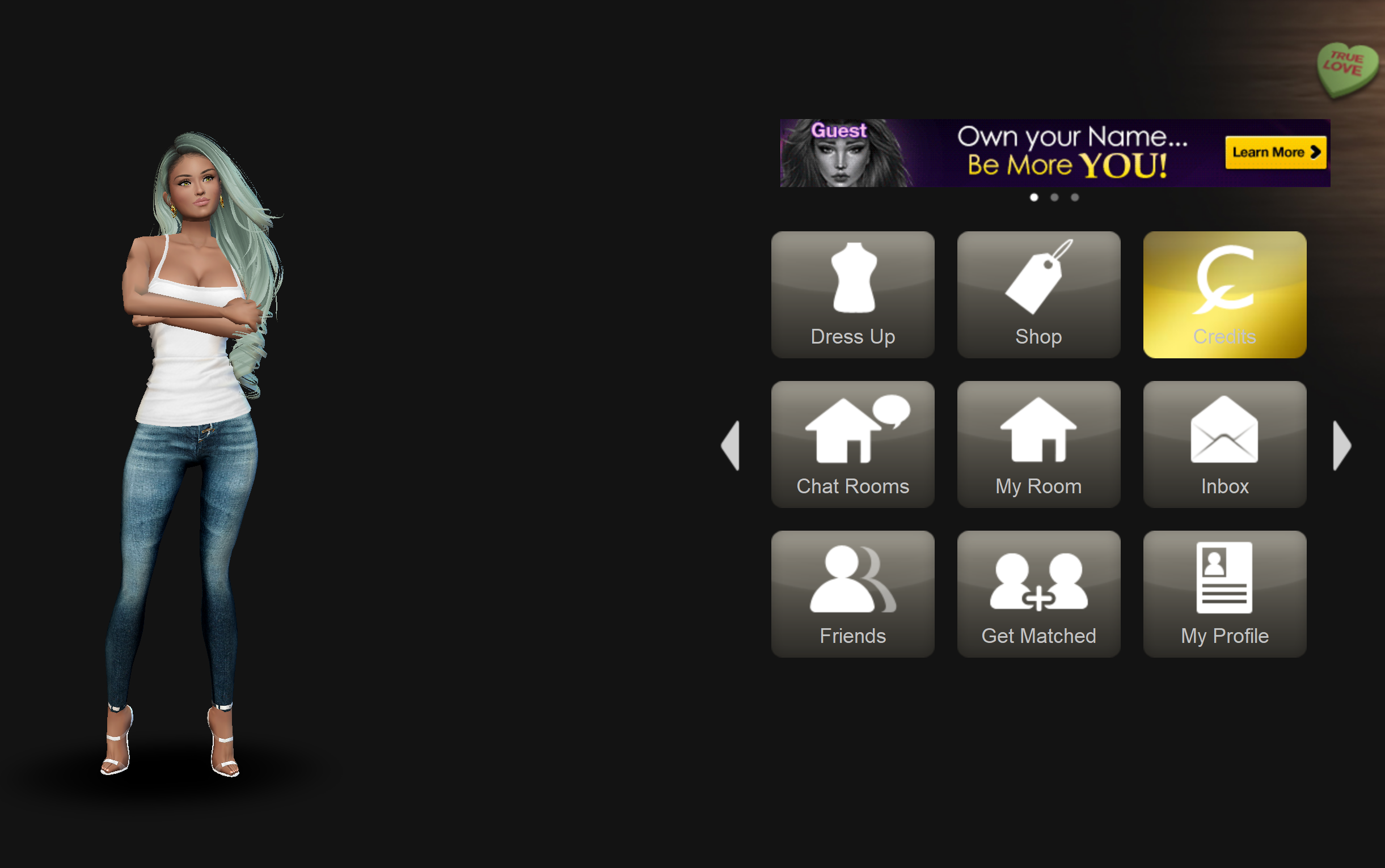 Friends – Look at your friends list.
Get Matched – Go through random profiles to try to get matched with other players.
My Profile – Look at an overview of your profile. Edit information as you see fit.
Our Room – Decorate a room with your partner. Your partner is someone to whom you are married in the game.
Shared Room – Decorate your shared, public room with your friend.
Find People – Look for people based on your preferences.
Photo Stream – This brings you to the website. You can look through new photos from other players and see comments people have made on them.
Photos – Look through your own photos.
Walk Off – Walk Off is a social match 3 game that you play with other players. Try to hit 100 first.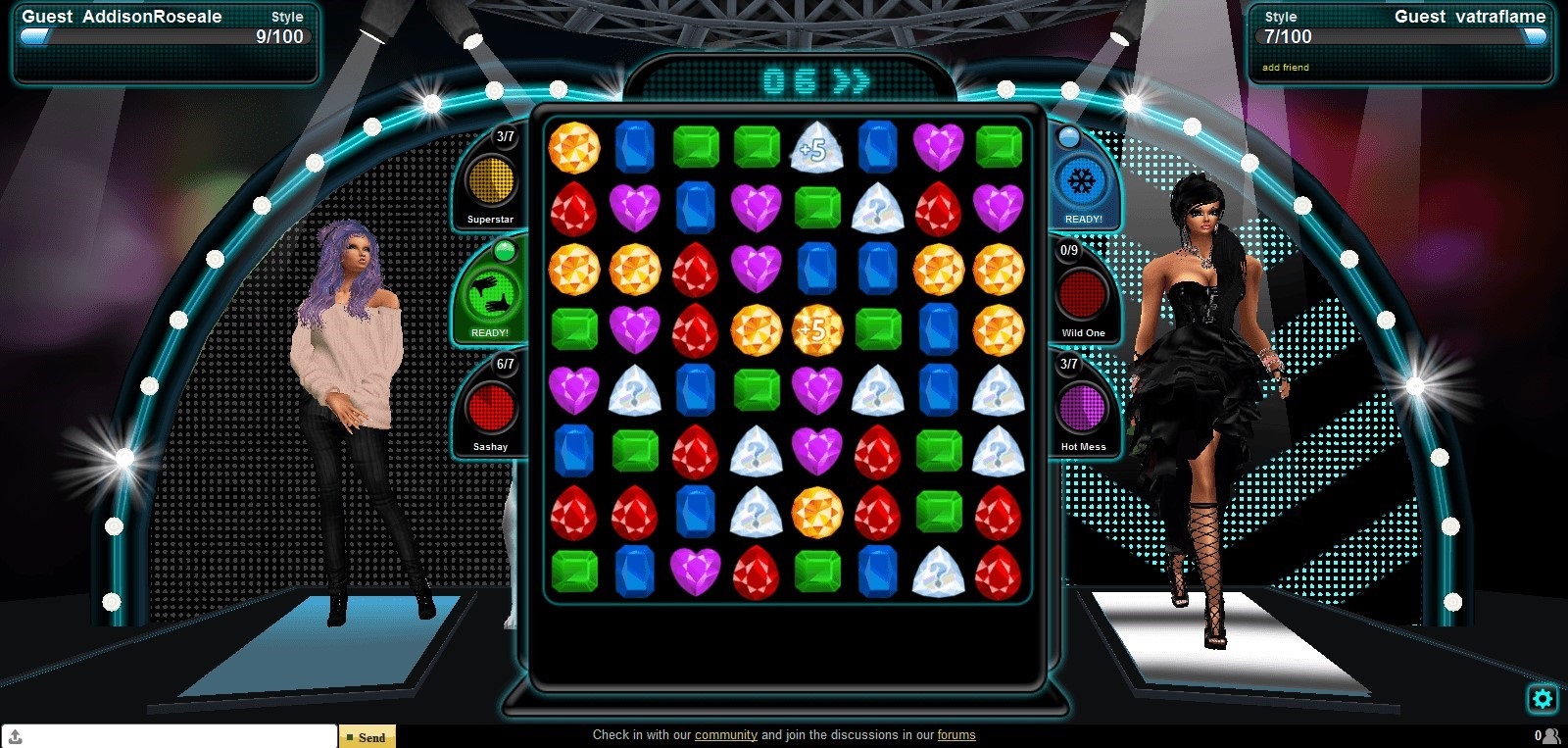 Settings – Alter the settings for your account and the client to fit you.
Groups – This brings you to the website. Check out groups dedicated to a certain topic or activity. Find a specific music or fandom or roleplaying group, join, meet people like you, and take part in conversations or roleplaying.
Create – Create gives developers the ability to create their own products.
Music – This brings you to the website. Check out available music, buy music, and listen to your purchases.
Pulse – Read status updates from all players or from your friends.
Earn Credits – Earn credits by watching videos, completing surveys, or signing up for deals. Some require you to pay but there are free options if you are not comfortable with that or prefer not to spend anything.
Find chat rooms for relaxing, chatting, and enjoying yourself. There are chat rooms in nearly all languages, too, so people all over the world are welcome.
Here are more screenshots:
The Website
Getting started on the IMVU website is easy. If you have been here before, it will feel similar. In fact, it will probably feel the same. IMVU has not done much to update their website over the years, relying on its simple design and focusing more on their downloadable client as well as adding more features. On the main page, these are some of your options:
Check over your account on the main page. Look at private messages people have sent to you, Pulse, missed chat invites and your groups and your friends, and your music.
Click on the community tab to check out challenges, games, chat rooms, and anything that involves the community.
Go to the shop tab to buy some new clothes, accessories, music, or anything else that interests you.
Go to VIP to become a VIP member.
Choose buy credits to purchase credits or free credits to earn credits. You can also give credits to people if you are feeling generous.
Upgrades will give you special benefits and access to parts of IMVU that only money can buy.
Both the client and the website are simple and straightforward. IMVU has an intuitive, attractive design that makes it easy to browse, purchase, use purchases, meet people, and have fun with minimal difficulties. You do not have a clunky or bothersome design in either part. This makes it easy for newcomers to IMVU or these types of games in general to access all areas without feeling confused.
Playing for Free
Anyone can play IMVU without having to spend anything. If you do not have the money to put into credits or if you do not like the idea of paying to play, you can earn credits through the earn credits option. As stated above, it gives you the chance to earn credits a variety of ways. You can complete a survey, watch a video, or sign up for a deal. You might find good deals that you like or you might have the chance to spend less and get more credits. You can also filter by free if you do not want to spend anything.
Do keep in mind that these are surveys. Some surveys are short, but you might also come across longer and more time-consuming ones. There is also the issue that many free options have a small payout. While you are not spending anything to get credits, it is still a lot of trouble for little reward. That is, of course, if you get the reward. Typically, IMVU is good about paying out, though.
Free players have some restrictions, they won't be able to create content but they are free to explore the chat rooms, make friends, watch videos and listen to music.
Watch more videos on their YouTube channel: IMVU on YouTube.
IMVU is free to play.
Play IMVU Now  More Games Like IMVU