Dream of becoming a chef and want to practice cooking in a virtual kitchen? Here's a list of Cooking and Kitchen Games that you can play.
Happy Chef 2
In this fun game you get to cook various dishes that are from all around the world!  Happy Chef 2 takes you on a journey as you start off as a chef with little experience.  As you travel the world you gain more experience and become a famous chef!
Restaurant Empire
In Restaurant Empire you get to build, design, and manage your own restaurant and have nothing when you start off.  You have to use your money and your love of food to build your restaurant from the bottom up. By learning new tricks and recipes you can keep you customers coming back.
Youda Sushi Chef
If you love sushi and have always wanted to be a sushi chef then Youda Sushi Chef is just the game for you.  You get to build your own sushi restaurant and become a sushi expert.  As you get more experience you can upgrade you restaurant.  You also learn new cooking tricks and recipes that will keep your customers happy.
Cooking City
This game is a great way for you to satisfy your love of cooking.  Cooking City allows for you to cook as much as you want and sell your goods for points and monies.  This social Facebook game is a great way to cook some of your favorite meals and have fun!
Kitchen Scramble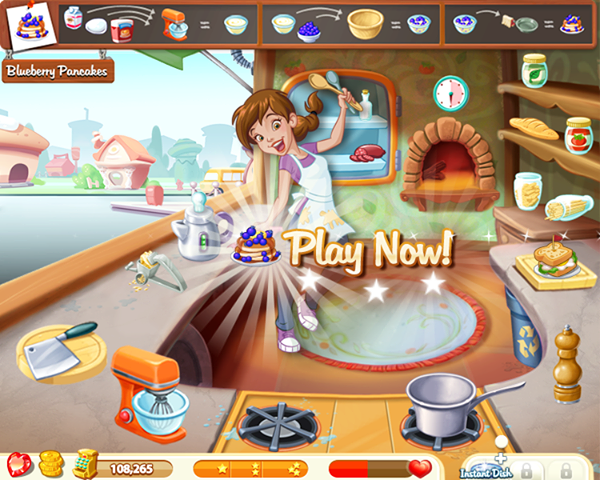 In kitchen scramble you are the new chef and have your own food truck.  Now you have to start cooking up delicious foods that will bring customers to your food truck so that you can travel the world and learn how to cook new dishes.
Kitchen Brigade
In this fun cooking game you have been selected to be a contestant on the Kitchen Brigade a competitive cooking show!  With this game you must open and manage several different restaurants and you only have 66 days to do it!  The pressure is on but the fun has just begun!
Grandma's Kitchen
Grandma's Kitchen is the best place to learn how to cook and bake your favorite dishes.  This game is very fun and allows for you to not only have fun cooking but also learning as you use words to bake fun dishes and learn about healthy snacks and different desserts.
Cooking Academy SD
In this fun cooking game you are at the Cooking Academy SD and have to learn how to make different dishes and get graded on them by mean and hard chefs.  The better you do as you make your food the better grades you will get which means more points that will help you to graduate!
Top Chef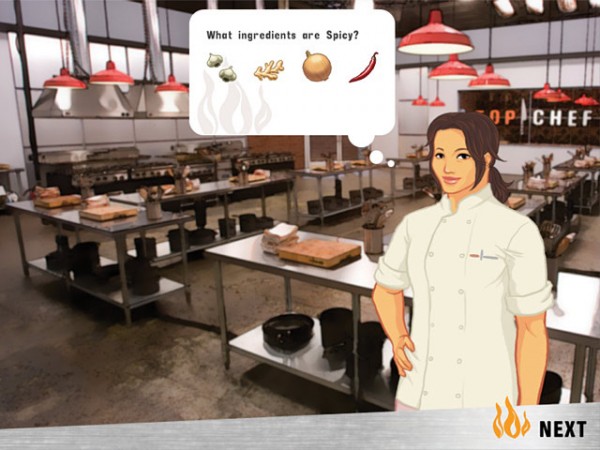 This game based on the Top Chef show has you joining in on the cooking competition.  You will love the Top Chef Game as it is fast paced and very competitive.  You have to be on top of your game and manage your time well or you will find yourself being eliminated from the competition.
Order Up!! To Go
If you love fast paced games that involve cooking than Order Up!! To Go is just for you.  In this game you deal with the frantic kitchen cooking and also building a cooking empire!  You have to chop, cook, roll, and slice your way to being a cooking star!
Go-Go Gourmet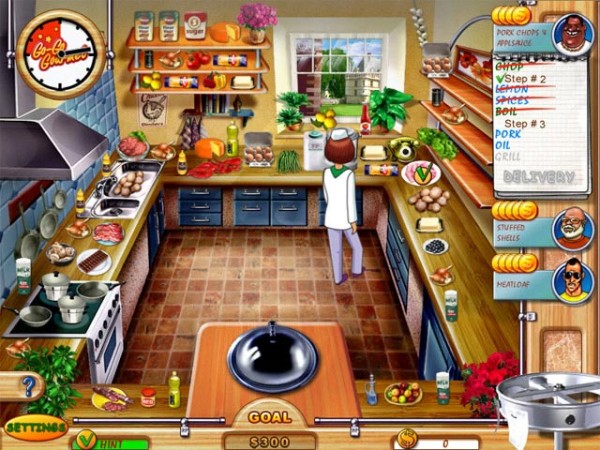 Go-Go Gourmet is not like all the other cooking games as it is a hidden object and time management game.  You will absolutely love it if you love cooking and hidden object games as it combines all of those things.  You must find the ingredients in a messy kitchen before time runs out!
Cook, Serve, Delicious!
In this crazy and fun sim cooking game you have full control over you character.  With Cook, Serve, Delicious! Extra Crispy you must take the old broken down restaurant and make it into something fantastic.  You have to do all of this with only a little bit of money and hardly any staff.
The Hell's Kitchen Game
This is not your mama's kitchen, it is the kitchen of Chef Ramsay. You will be taking on the role of Chef Ramsay cooking and preparing foods for all of your customers. It seems Ramsay is always in a hurry and his personality has an angry rage about it.
Hot Dish 2: Cross Country Cook-off
Hot Dish 2: Cross Country Cook Off is a fast paced and fun game where you master several different types of cuisines in an effort to win the Gourmet Grand Prix!  This is not just a cooking game but also a Time Management one that makes it very fun and challenging.
Funny Pizza
You get to play the role of a manager at a pizza joint an a chef. You will be trying to increase business by fixing various foods besides the pizza. Once business picks up you can hire more help, and have enough money to keep replacing the stuff needed to cook with.
We also have a list of Restaurant Games and Hotel Games that you will surely love and keep you busy for hours. Go check it out!