Here is a list of games that are similar to Weekend Party Fashion Show.
Doll and The City
In Doll and The City, you are able to dress your working girl avatar in the latest trends. This simulator allows you to have a taste of working while hanging out with other fashionable Dolls. You also get to decorate the apartment of your style loving avatar, and visit the fabulous pads of your in game friends.
Movie Star Planet
Welcome. This will be the place to be if you are wanting to experience what a movie star feels like with all those shouting fans out there. It is also a game of socializing and interacting, and that's a good thing for a movie star because it brings in more fans to show off to.
Fashionista
In Fashionista, you get to live out your dream of building a fashion magazine from the ground up. You will have help honing your editing eye in order to make this magazine a hit. You will go shopping and make sure that your cover model is wearing the latest trends in a way that has readers coming back for more.
Stardoll
In this simulator, you can customize your avatar in order to enjoy this virtual world. Decorate your posh pad and shop among the various shops, in order to have your avatar looking fabulous. This is a great way to spend time in your own little world, all decked out to your heart's content.
Oh My Dollz
Oh My Dollz allows you to unleash your creativity as you customize your Doll and the settings in which she lives.  You can put together great looks and design lush backdrops in this sim.  When you visit other Dollz, you are unlikely to find another just like yours, thanks to the high level of customization present in this game.
Lady Popular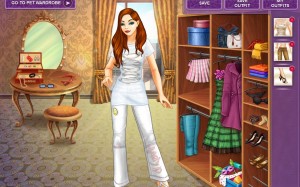 Lady Popular allows you to choose from over 16 million combinations to create fully accessorized looks for your customizable avatar. With fantasy themes from around the globe, this almost cosplay simulator will keep you busy for hours on end.
For even more games like Weekend Party Fashion Show, check out Fashion Worlds category.