A new and visually appealing web-based social game, WoozWorld is a great place to chat and hang out with friends. Although there are few gameplay features, you can customize your very own "unitz" by using furniture and other items that you collect around the game world. Even though WoozWorld encourages you to create your own content that is player generated, there are several other regions that are official referred to as "Nationz" and you can explore these. Some of the official regions are Cortozza, Mystic Alley, Lib Street, and Colony V, among others.
So, what can you do at WoozWorld?
Well, the first thing you do is create a Woozen that is unique and customized with your choice of accessories. You can then create and design your Woozen's Unitz before you begin transforming the world.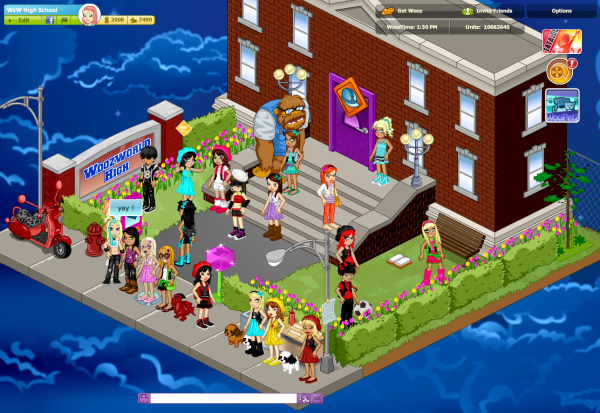 Once you have customized your avatar and his or her home you can then do many things including:
Vote on the best Woozen and Unitz
Earn Wooz and Beex so you can buy items
Play hundreds of fun games or watch videos
Begin Spellz battles with your friends and other players
Complete missions that are diverse
These are just some of the most common activities with the game. One of the best things is that you can guarantee you are always safe as they protect your personal information and really make your safety as one of the biggest priorities.
When you first arrive in WoozWorld you are shown around by 4 special characters that you will guide you through the basics of how to play and move around. They will give you objectives and teach you where you need to go. Finishing these objectives will give you a variety of rewards.
Paid Subscription
Of course the game is open free to play all the time, but they also offer a paid membership that offers more perks than with the free account. If you pay for a subscription you can expect the following privileges:
For every completed action you will earn more Beex
Only members can earn Wooz the game's currency
You gain access to additional votes and special Spellz
You are given an allowance each week
Paid members are able to access exclusive accessories and clothing for your Unitz and Woozen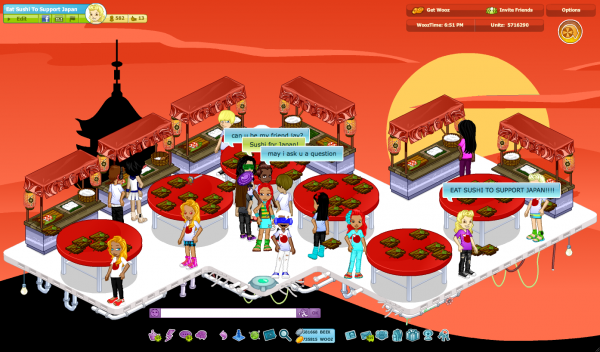 For more screenshots, click here.
Your Own World
When you play WoozWorld, you can use your imagination to create your own little world and share it with whoever you want, whether it is with other WoozWorld Citizens or your own friends. With this browser-based MMO you can pick to design a complementary Unitz by simply clicking the Add button. With this function you can choose to position doors and assign them destinations. For example, a Public Zone, another Unitz of your own, or a friend's Unitz. This will help you create the virtual fantasy world of your dreams.
This game is designed for the players to communicate, interact, and have fun with other WoozWorld users. The basic gameplay is focused on completing activities playing games, earning virtual cash, and spending the cash to customize your unit and avatar. You will love dressing your avatar up in sexy, cool clothes and entering a public place to begin chatting with other users or playing mini-games to pass your time.
Watch more videos on their YouTube channel: WoozWorld on YouTube.
WoozWorld is free to play.
Play WoozWorld NowMore Games Like WoozWorld
Sooo, did you think this game looks cool? If yes, Like!