Here is a list of mermaid virtual worlds that feature mermaid games and items:
IMVU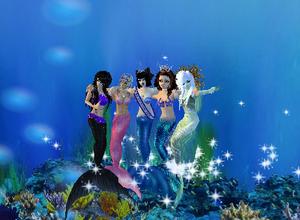 IMVU is a world that gives you numerous clothing options. Do you fancy being a mermaid? Go on, choose an avatar and discover the underwater worlds like never before! Relax in your beautiful and luxurious private realm.
Second Life
Live a life of the merpeople in this game. Go underwater and discover the exotic secrets the oceans hold. Swim happily and meet other creatures such as orcas, dolphins, and more.
Onverse
All you have to do in this game is dress up as you wish and start exploring! The world is full of surprises and you will easily spend hours checking it out and socializng.
Mermaid World
Merpeople are beautiful, aren't they? Wouldn't you love to enter a world with plenty of them? Join this world and discover the secret underwater realm. It is simply stunning and will definitely blow your mind away!
Fairy Tale Games: Mermaid Princess Puzzles
This game is for toddlers who love the fantasy world. In this virtual world you will find many puzzles to try out. The puzzles are designed especially for toddlers up to the age six to make sure they improve their intellect in a fun manner.
King Tritons Tournament
Get ready to struggle against King Triton, and mermaids! You will begin by choosing your character, or you can take a look at the how to play. Once you are ready to choose your character, you will be on your way to encountering enemies and battling against them, or you can hide.
Glam Splash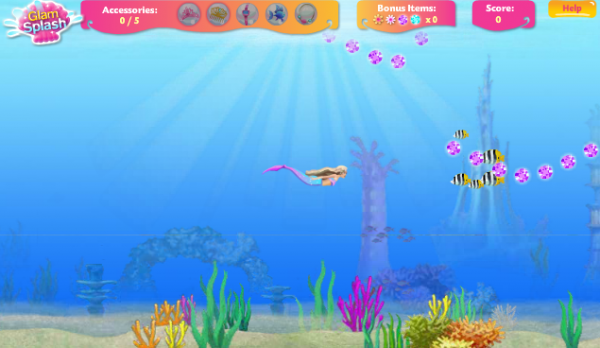 In Glam Splash you will be deep under the ocean helping Barbie once again collect things such as flowers and other accessories. You will be trying to collect as many of these as you can, but you will also have many dangers to avoid along the way. Hurry, she needs your help!
Winx Club Mermaid Layla
In this one you will get the chance to swim around the ocean with Mermaid Layla. You will have to collect sparkling diamonds, glowing love hearts and clams, as many as you can. You will have to avoid sting rays, as well as other foes. If you like comparing your scores, upload them to the online score board.
Mermaid Ariel and Letters Hidden
If you like Ariel or mermaids in general, and you're wanting to play with the alphabet then this is a great way to do it. You will be looking for the hidden letters, there are many levels to progress through, and each one has unique artwork. You'll be discovering something new every time!
Barbie Fairytopia: Mermaidia
Mermaidia is a town that is in trouble. It is up to you to save the town by finding the prince. Are you up to the challenge?
For more virtual worlds like these, check out our Social Chat Worlds category.