Here is a list of games that are similar to SingParty.
Singing Superstar
Singing Superstar is a karaoke experience that can be played right on the screen of your computer. There is nothing for you to purchase in order to use it. Only takes a few minutes to set-up. You can download any type of music you're looking for or maybe you already have a personal collection you would like to use.
SingOn
Are you ready for karaoke that makes everything easy to follow and understand? If you really enjoy singing along to the music you going to love SingOn.  You will be able to share the fun with family members and friends and sing to compare who is the best, or enjoy it while at home alone if you prefer.
Karaoke Joysound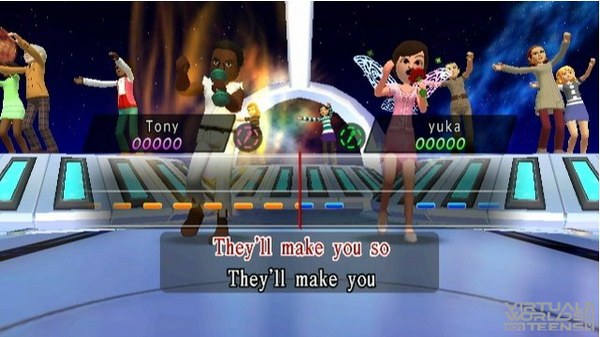 This karaoke game offers more than 1,000 songs for your karaoke pleasure. Test your singing skills and challenge your friends in a singing match.  It is played through online streaming on your Nintendo Wii. Joysound will give you the ultimate karaoke experience. You are going to find the hottest hit tracks, all the popular ones out today.
UltraStar Deluxe
If you enjoy singing and you know that you do, you are going to have a great time with UltraStar Deluxe. It lets up to six players play at a time. The night is still young and you and your friends can spend it challenging each other to see who gets the correct pitch the most.
SingStar Dance
SingStar Dance offers much more than you are use to from other genres of this type.  So anyone who has enjoy other games like this will love this one even more. Test your skills or maybe you just want to get the hang of it and practice a bit. It is something to get excited about.
Let's Sing
Anyone that is or was a fan of the previous title is going to enjoy this one even better. It gives a measure of your performance during battle mode (which can also be turned off when you like), which can be used for practicing. They have designed this to be as a karaoke game is suppose to be.
Lego Rock Band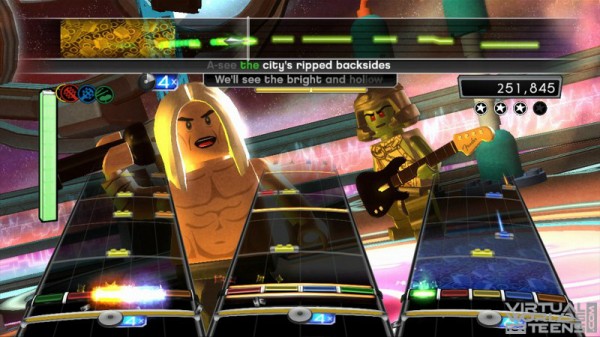 Lego Rock Band will give you the ultimate experience of how a rock stars' life is and in karaoke, so come take a journey into the game of singing along. You can create a style all of your own and also a beat that is going to rock the universe. There are challenges such as defeating a Giant Octopus, and many levels to complete.
Rock Band 3
You can experience a virtual band life in this awesome journey into an adventure of karaoke. You can gather with friends and even family and share song lists to enjoy an evening of voicing together.  It gives you the opportunity to really enjoy music that you don't have much time for anymore.
The Beatles Rock Band
This is a video on a rock band that is simulated and up to six players can go at it at the same time, and have access to three different controllers at the same time too. One of the controllers is the guitar controller (bass, for the lead player), the second controller is the drums, and the microphone for vocals.
Michael Jackson: The Experience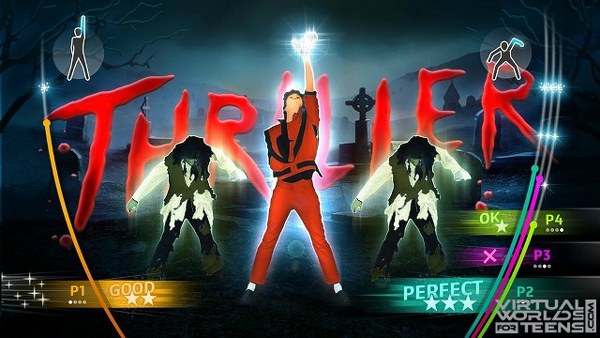 For those who Remember the King of pop and are interested in knowing how he did those fantastic dance moves, here is your chance to learn them. This lets you sing right along with Michael, and do those moves virtually with him. This is an opportunity to pick-up where he left off and bring those popular songs back alive.
The Black Eyed Peas Experience
This is going to judge your performance based on how well you have learned the dance steps given in the dance instructions (which will be shown on the screen). It offers many different features that will enhance the gameplay, you need to become familiar with everything. There are options that let you switch up avatar, and even to change up their clothing.
Big Time Rush
You will be able to dance with these guys and learn to sing their songs they way they sing them.  All of this happens while some extremely amazing effects are also happening, which makes for an interesting visual appeal. It is going to give you a whole lot of fun and excitement.
Karaokegame.com
You will find that karaoke is not a hard game to play, all you have to do is sing along to the lyric that show up. There is a voice analysis in the background that is scoring you as you progress through the levels of play, so the only thing you want to do is pay close attention to those lyrics and sing your heart out.
KaraokeParty
This karaoke game has a mechanism that measures the pitch of your voice and can tell if it is matching up with the original pitch in the songs. They use this in order to score you, which is how they decide how many and what kind of earnings to give you throughout the game itself.
For more games like SingParty, check out the Singing Games category.