Here is a list of games that are similar to Boogie SuperStar.
SingStar Dance
Dancing and singing is pretty fun, but when you are playing SingStar Dance you will see what it would be like to be a rockstar. You will be able to sing and dance with some of your favorite music from now and then. This is one game that is unique.
Big Time Rush
It is time to have a great dance party with your favorite crew Big Time Rush. You will be able to dance and sing the songs of the BTR band and to make it better you will notice the awesome effects that keep everything as cool as possible when playing.
Michael Jackson: The Experience
If you love Michael Jackson music, as well as some of the most iconic moves of the century, then you will love The Experience. You will be able to learn some of his best moves and sing along with some of the greatest songs of all time from Jackson 5 times to right before his death.
The Black Eyed Peas Experience
It is time to join the Black Eyed Peas in the experience of a life time. You will be following the dance steps instructions and you will have to try your best to duplicate them. You will be judged on how well you did at the end. It is great for working out or just for fun.
Lego Rock Band

Legos has gone above and beyond with their version of Rock Band. Your cute little Lego characters will be rocking out to some of your favorite songs from the Beatles to Jimi Hendrix and many more. You can use the rock band equipment or guitar hero equipment to play.
SingParty
SingParty is great to really hang out and do something awesome with your friends and family. This is a game that doesn't care how you sing or anything. It doesn't judge you. You will need either the Wii or the Wii gamepad to use it but it is well worth all the fun you will have.
Rock Band 3
It is time for you to be a rockstar in Rock Band 3. You will be able to do more than just play the instruments, you are going to be able to sing along with all of your favorite tunes. This is one way that you can get your karaoke practice in.
SingOn
SingOn is the greatest karaoke game ever. You will be able to sing along with all of your favorite songs in a way that is simple to do. You will be able to sing with your friends or along and even compare your singing skills.
Singing Superstar
Who said that you need a gaming system to sing Karaoke? Now you can use your personal computer and sing along with all of your favorite songs. Singing Superstar is great for parties as it can get everyone into the fun.
Karaoke Revolution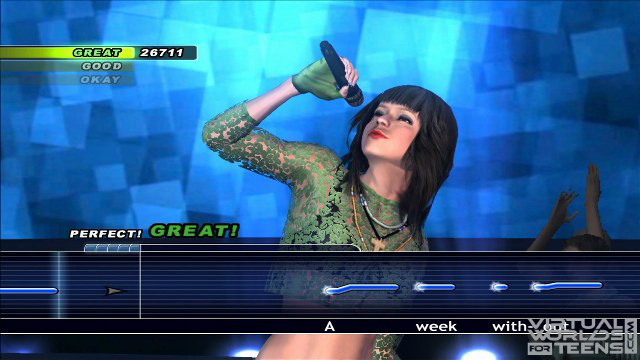 If you have ever played Dance Dance Revolution then you are going to love Karaoke Revolution. You will have to work hard to get a great score as the system scores you on the pitch versus the right pitch. You can sing in just about any tone.
Sing 4: The Hits Edition
Sing 4 is made so that you and 3 of your friends can get your sing on. There are over 40 hits as well as music videos. There are lyric scoring, pitch correction, and even performance playbacks so that you can see what you sound like when singing.
UltraStar Deluxe
Singing can be a lot of fun and why not do it with your best friend or family members. You will be able to turn an average night into a fun one when you compete in a sing off competition. You will even be able to sing along with new and old tunes.
For more games like Boogie SuperStar, check out the Singing Games category.