OVERVIEW
February 15, 2019
PLATFORMS
PC, Mac, Android
LANGUAGES
English, Portuguese, Turkish, Polish, Romanian, Russian, French, German, Spanish, Greek, Latvian
ESRB RATING
Teen
Crude Humor, Infrequent use of strong language
Positives
Full of gaming lounges.
Negatives
Only paying members can skip the ads.
Bottom Line
Our World is a great place to hang out and meet new people to chat with. The game has so much content that you really miss out on a good game, if you are not one of the registered users.
You have rated this
Our World is a virtual world full of gaming lounges where you can walk around making remarks on other people's outfits or create new friends. With Our World it has never been so easy to interact with other players from around the world.
As you see someone you wish to speak to, simply either talk aloud, whisper to them, invite them to be friends, or even email them through the in-game email system. That's right – you get your very own email inbox that is private where you can receive and send messages with any other user. Additionally, this is where you will get your new challenges and other pertinent information about the game.
Condo
Like many other games of the genre, you begin by personalizing an avatar any way you wish. You then continue by decorating your own personal condo the way you want it to look. You will find that Our World's housing system is very detailed and there are even hundreds of types of furniture that you can use to decorate your home. Since you have the ability to put each piece of furniture where you want it, you have the freedom to really make your virtual home your very own.
Right outside of your condo you will find a "Critter Garden" that you can use to raise animals to sell for future profit. All you have to do is buy eggs and put them in the nests. Eventually, the eggs will hatch and you can sell the critter that is born for money.
Mini Games
With Our World you are given access to over 50 games that range from standard pool, variations like 8-ball and 9-ball, to Bejeweled, or even shooters. Even if you can only make it through the first 20 stages in the puzzler game 'Around the World' that is based on  the super famous Phileas Fogg's 80-day Journey, you can still move on to another game.
The Our World flash mini games help you fill your Flow meter at the bottom left side of your screen. Every time your meter fills up completely you will gain Flow points, which are actually credits. You can use the credits for the Bubbler and the Prize Wheel, which are both easy games. For these games you simply switch their Flow for coins, clothing, and experience. This game is fun in large part because their mini games are actually very high quality.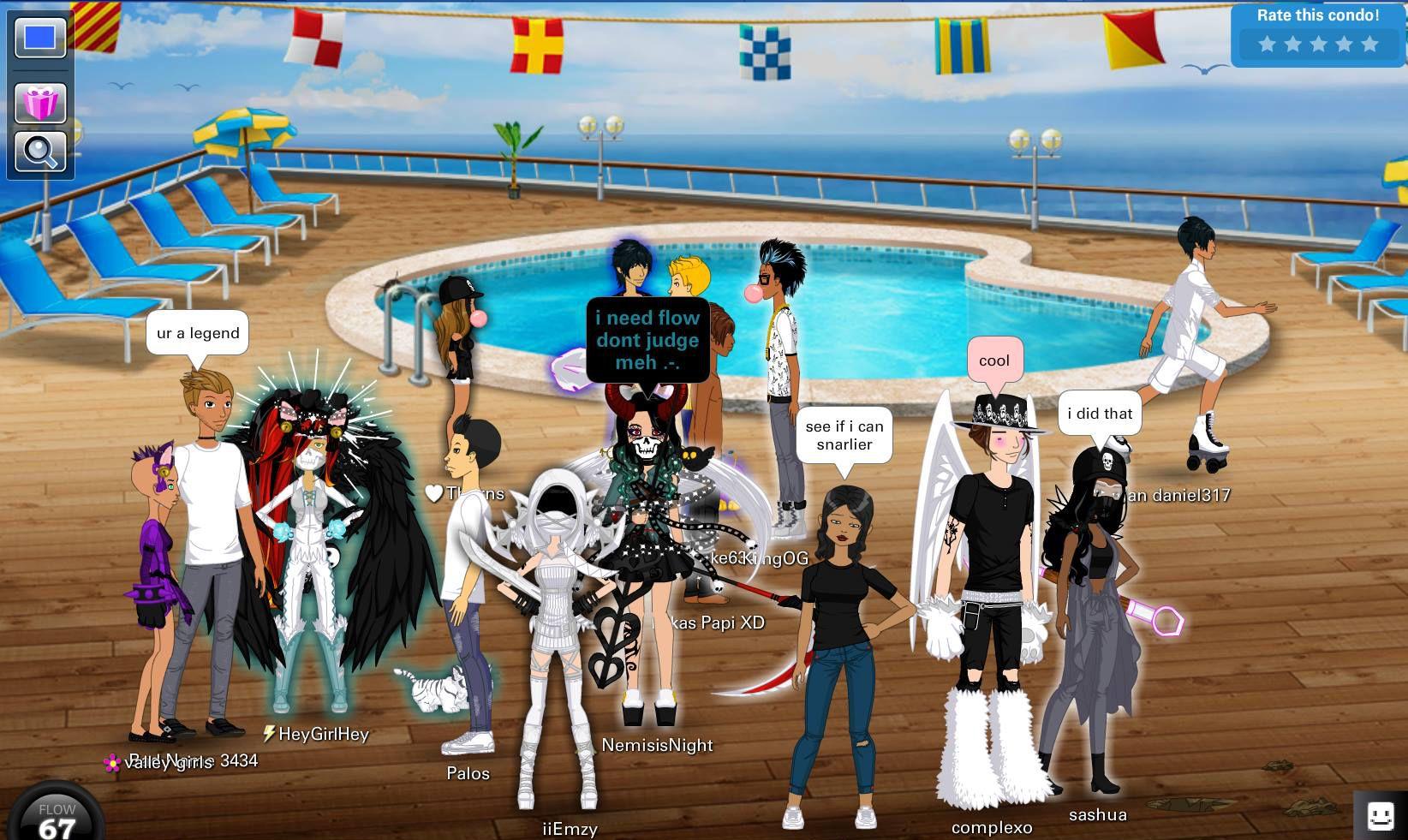 Here are more screenshots:
The fun doesn't stop there in this virtual world though with plenty of other features that will mean there is always something to do in this ever growing and exciting virtual world.
Coins
While you are exchanging Flow for experience, you will also win other items such as coins and more. You can spend coins at the mall in the game, where you will find items like furniture for your condo, clothes, shoes, and much more.
In the store you will find "a sales lot" of  hundreds of different pants, shirts, and other accessories to pick  from. The best thing is that the items are purchased using coins from the game currency. If you don't want to wait while you collect enough coins to buy some of the trendiest new clothes, you can use actual cash to buy the game's premium currency known as "Diamonds". While you are at Our World's mall you will find different stores and an international-market, which is like an auction house where you will sell or buy items from other players.
Our World is a great place to hang out and meet new people to chat with. The game has so much content that you really miss out on a good game, if you are not one of the registered users.
Our World is free to play. For more virtual avatar chat games, check out our Chat Games List.
Play Our World Now  More Games Like Our World