Here is a list of games that features the ever popular Jonas Brothers.
Joe Jonas at the Disco
Joe Jonas fans will love this interactive dress up game. Use your mouse to scroll over various wardrobe items and combine several style to make your best Joe Jonas look! Make Joe look good for the fans as he gets dressed for the club. Change his hair style, eye color and even throw on a pair of shades!
Color up Jonas
If you like coloring pages you are sure to love this Jonas Brothers color-up game. Use your mouse to choose the colors of your choice and click on various areas of the picture to personalize your Jonas picture.
Rick Joebas Dress up
This is a dress-up game where you can dress Rick Joebas for a night out with his brothers. Use the mouse to select several different outfits, shoes and jewelry to make him look his best for a night out on the town. Search through several styles and pick the ones that appeal to you the most!
Joebas Brothers Dress up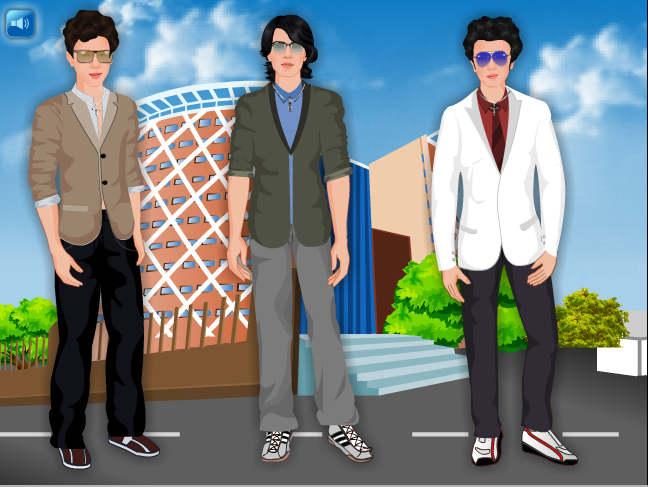 This is a dress-up game where you are able to choose from various styles of clothing and accessories to make the Jonas brothers look their best for a night out on the town. Choose anything from Hairstyles to outfit, and jewelry and eye color. Send the brothers out in style!
Jon Joebas Dress up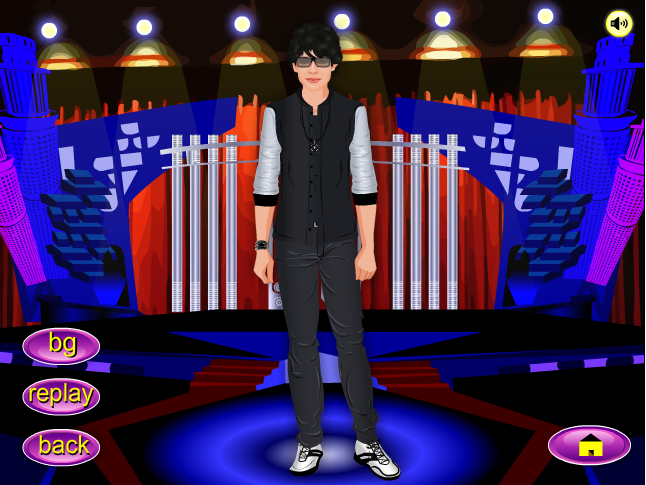 Jon Jobas dress-up is a dress up game that gives you the option to dress up Jon Joebas for a night out with family. Choose from various styles of tops, bottoms, shoes, and accessories. You can even change the hairstyle, lip color and add some cool shades to him as well. Make it Hot!
Kevin, Joe and Nick Dress Up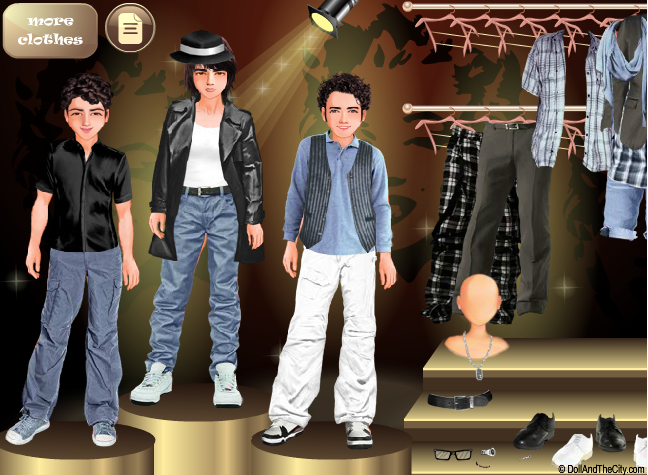 This game offers you the opportunity to dress Kevin, Joe, and Nick up any way you like with different clothing and accessories. Use your mouse to select different styles of clothing and place them on the body of the Jo-Bro of your choice. You will dress up all of the Jonas Brothers in this game.  Have Fun!
Tuberockers
Tube-rockers is a rhythm game featuring YouTube videos. Some videos contain suggestive language. You have to press the correct key as the note is covering the button on the bottom of the screen. Hold the key down when there is a long note. You can add your own scipts by pasting them at the song select screen.
Guitar Drum Revolution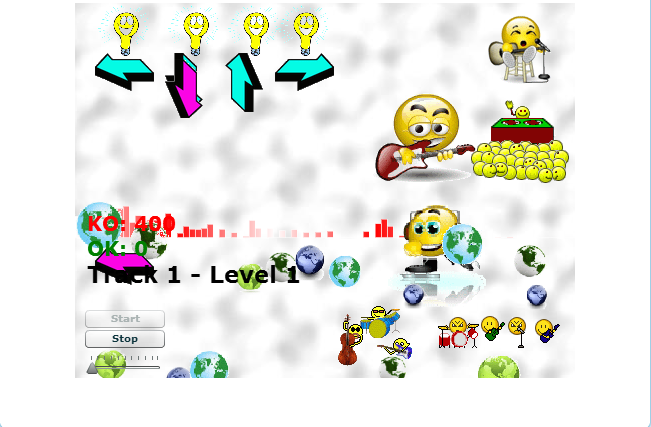 Guitar Drum Revolution is a dance simulation game, where you hit the arrow key close to the target. Hits that you select before the fire line will end the game. If you fail to make hits or have no activity the game will end as well. After a certain number of Knock-out points the game will end. This game takes practice!
Snow Angels
Snow Angels is a dress-up game of two teens in love. Use the mouse to change the styles of clothing, hairstyles and more. The game has great graphics and builds the scene for the perfect romance tale. Have fun with your girlfriends and make up a story to go along with the picture you come up with!
Dream Boy
Emily has a dream boy. Use your mouse to change the style of the dream boy to what you think is Emily's perfect dream date. Pick through several different hairstyles, rockin' tops and bottoms and stylish shoes! When you are done there is an option to save your work to your own computer!
Love Letter
Emily is taking a huge step in her life. She has stayed up all night thinking of a love letter to write to the boy of her dreams. Use the mouse to change the many different styles of designs on the love letter. Take your time and make it special. The game has the option to share or save to your computer.
Rock Band Fun
Emily is looking Fab as she introduces a new boy to the band! Use your mouse to change the styles of the Emily and her friend. There are several styles of hair, tops, bottoms and shoes to choose from as well as an option to save your fabulous work at the end!!
Disney Sing It: Pop Hits
Disney Sing It is a video based Karaoke game that offers some of the latest pop hits, and lets you and you entourage get down and boogie singing some great songs! With songs from some of your favorite Disney pop stars, you are sure to have an amazingly fun time singing and having a good time!
Dress Up Jonas Brothers
Stardoll brings you a cool dress-up game featuring the Jonas Brothers. Look through their wardrobe and find some hot outfits to make the guys look fly for an evening on the town. Choose from pants and tops, to shoes and ties. Even pick a fly belt to add a pop of color!
You can also check out our list of Pop Star Games to enjoy fun time with your favorite celebrities.