The Final Rift – It's Coming!
Last week, Oculus VR finally unveiled the consumer version of their long-awaited headset, the Oculus Rift. It's sleek to say the least, but we expected nothing less. However, they also let a few juicy details slip as well, including their partnership with Microsoft's Xbox One and the controllers they're making specifically for the Rift!
People were understandably bummed when Oculus let on a while ago that the Rift would not work with Apple products, but now the reason for that is clear: they've developed an arrangement with Microsoft, and the Rift will work exclusively with the Xbox One console (at least for now). To go along with it, they're developing their own controller, dubbed the Oculus Touch, which will allow for more realistic hand motions when using the Rift.
Between these two pieces of news, it's clear that Oculus is well on its way of making true VR gaming a reality. Although some got a little bit worried that gaming would take a backseat once Facebook came on the scene, it appears that those worries can be put to rest. But that doesn't mean more isn't on the horizon for the company – they're currently working on making computer-generated films with their own production division, which could potentially allow you to experience real-world places without actually hopping on a plane.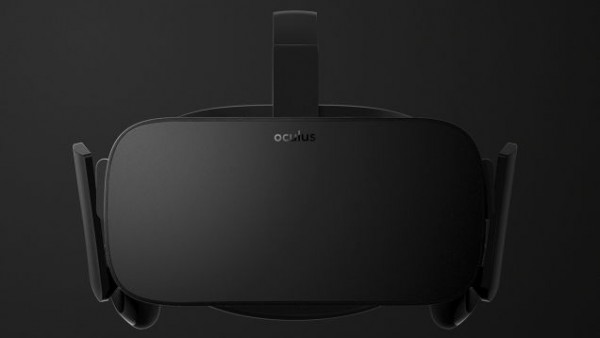 But we digress. Back to the Xbox. The console will stream the games to the Rift when the Rift is connected to a PC running on Windows 10. This partnership also means that the Rift will work with all of the Xbox games, even if they weren't specifically designed for VR; instead, the games will play on a theater-like virtual screen, streaming from the Xbox to the Rift using the same tech that allows games to stream from the console to a Windows 10 computer. And the PC is not negotiable – you can't just plug the Rift into the Xbox.
The controllers are still in-progress, but last Thursday Oculus stated that they're focusing on sit-down games at first, and designing the controllers so that they feel like those you're used to. However, a dedicated, wireless Xbox controller will come with every single Rift.
Now, you wanna know a release date and price? Nope – still no word on that. Insiders are betting that the Rift will possibly cost around $1,500 if you factor in bundles that include a PC powerful enough to run the programming at optimal levels. And there's still no firm release date, although the company is still saying the consumer version of the Rift will be available in the first quarter of 2016, with pre-sales starting later this year.
Minecraft – Virtual Reality
Back in April, we talked about the rumors swirling that Microsoft was planning to make at least a few games to go along with their upcoming HoloLens, despite the fact that it's not really focused on gaming a la the Rift. Well, at E3 Microsoft unveiled their upcoming Minecraft app that lets you build and play through the HoloLens!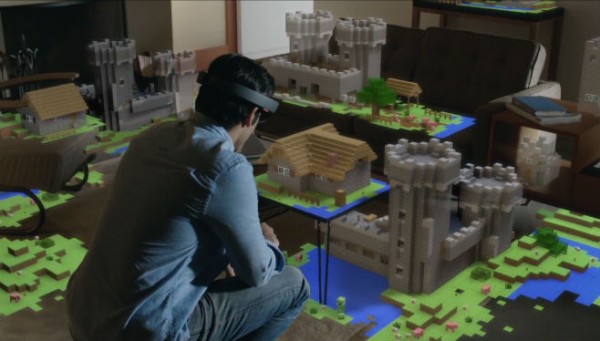 People who watched the presentation noted that it looked like a pile of Legos had been dumped on the floor, with the player being able to zoom in and out, go inside their constructions, twirl everything to get new angles, and zoom so closely in you could see incredible detail in what they hand constructed.
Oh yeah, you can build some amazing things – just like you'd expect with Minecraft!
So Microsoft and Oculus – What the?
Reading these two news pieces back to back makes one wonder – if Microsoft is delving into the world of virtual reality / augmented reality, why would they partner with their perceived competitor Oculus?
Because virtual reality and augmented reality are very different. The Rift and headsets like it take you out of reality and into a new world. Augmented reality, like the HoloLens, brings virtual components into your world. Right now, VR is perfect for games like Eve: Valkyrie, while augmented reality is perfect for construction games like Minecraft.
It's a win-win, and most definitely a match made in heaven!
New Headset Possibility
So, do Oculus, Sony and HTC have a new competitor coming to town? According to Forbes Magazine, they just might.
The studio that brought you Payday and Chronicles of Riddick is working on their own virtual reality headset, Project StarVR. How's it different from other upcoming headsets? To start, the field of view is 210-degrees (for comparison, the Rift only has a 100-degree field), and the display has a resolution of 2560×1140, which the company is calling 5K.
Right now, the upcoming The Walking Dead game by Overkill/505 will work with the headset, but the hardware will also support the Steam OpenVR framework, so expect more games on the horizon.
No price or release date yet, but this could definitely be an interesting addition to the line-up. Stay tuned!