Club Cooee – Meet Friends – Party And Have Fun!
Club Cooee is a wonderful 3D virtual world where you can meet new friends, chat with everyone, hang out with your buddies or meet up in a virtual coffee shop! As soon as you join up, you can start creating a great network of friends, get a great boyfriend and even get married! All this and more while having a really great time. Visit super beaches, rock the night away in really cool clubs, or start your own radio station!
Want answers to your Club Cooee questions such as getting married, meeting boys and girls or buying a home? Well you found the perfect place for your questions.
Please enter the url to a YouTube video.
Join The Fun
To start off, sign up and choose your avatar. Select your hair color and style along with eye colors, skin tone and super clothes that fit your style. Once you have your avatar ready to go, jump in and visit locations within the game to meet new people or hangout with old friends.
How to get A Boyfriend/Girlfriend
Boyfriends/girlfriends are other players on Club Cooee. Going to clubs, coffee shops or other hangouts, you can match up with a guy or girl you'd like to date or just hangout with.
Meet Old And New Friends In Clubs Or In DJ Party Rooms
You will have a great assortment of really cool clothes to wear out on the town. If you love music, dance the night away with some boys or girls you like.
Meet someone and compliment them, everyone loves compliments. Start chatting and at some point invite them to you place. Oh be sure you have furniture, especially two chairs! If you don't want to invite them home, ask if they would like to go sometime and become boyfriends or girlfriends.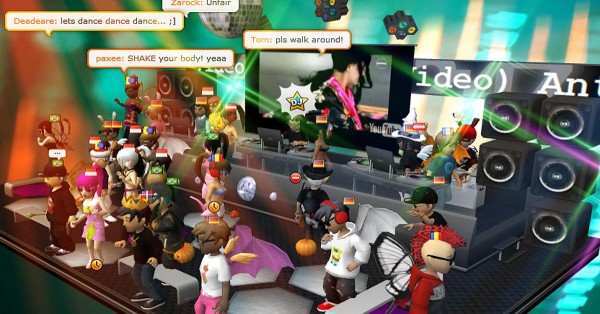 If they say yes, ask if they'd like to go to a really romantic restaurant or cozy pub. Take a walk along a beach or in a romantic garden.
If they already are seeing someone, ask if they would like to just be friends!
After a short while, maybe an hour or two, if you are a guy, propose to the girl. If you're a girl, say yes!
How To Get Married in Club Cooee
Obviously, you are not really getting married as everything is virtual but you can pretend to get married. You will need to purchase a "Dream Wedding Room" and invite a bunch of your friends to the wedding. If you don't wish to purchase a wedding room, you can search around for an available chapel or wedding room for your special ceremony.
Please enter the url to a YouTube video.
How To Have A Baby In Club Cooee
You literally can't.
How To Buy A Home In Club Cooee
From the time you sign up for this game, you are given a Private Room as a Welcome Gift. The room is pretty basic, but is wide open to your own modifications and designing skills.
Overall
You will get so caught up in this fun game that time will just literally fly by. Meet a lot of great people, both boys and girls, hangout, chat and have fun. Walk hand in hand in wonderfully romantic gardens, visit numerous virtual chat rooms and even start a business. Grab your friends and come see what everyone else is up to!