NOTE: this game has been discontinued. Find similar games here: Social Worlds.
Club Penguin is a free to play, non-violent game for people of all ages. It is a browser based 2D virtual cartoon world that, unlike social networking, is a single player mini game format.
About the Game
You begin by creating your own avatar penguin and then start exploring. Play a wide variety of mini games and take part in many different activities in order to earn coins. You then use these coins to buy furnishings for your igloo home as well as clothes and accessories.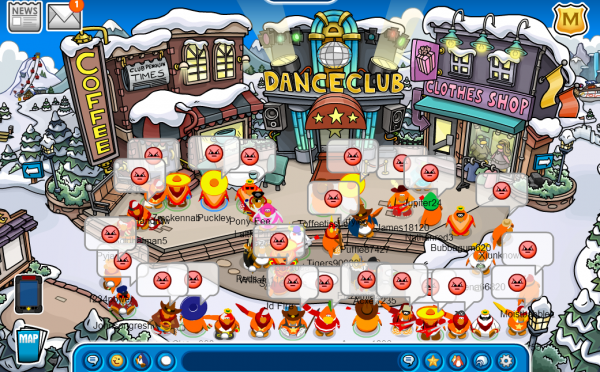 Mini Games and Other Activities
Club Penguin offers an impressive variety of mini games that you can play with friends through your avatar penguin. The best part is, you can choose from a great selection of games that suit your tastes. You can engage in a wide selection of imaginative and fun activities such as sending greeting cards, chatting, or using fun emotional icons. Icons are chosen from a great list of actions such as dancing and waving and much more.
You can attend parties or other special events including adopting a cute and cuddly puffle pet!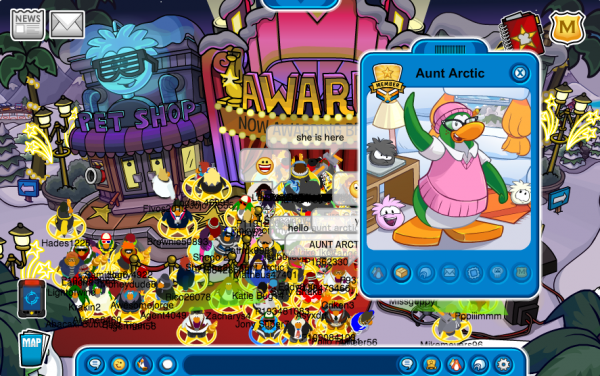 Improve Your Skills
Not only is Club Penguin a great place to have a whole lot of fun, but you can also improve skills, grow and learn new things. Practice keyboard skills, take part in role playing or develop your reading skills. Learn money management skills, enhance your social skills and get a clear picture of the role you should play within the community.
In A Nutshell
For more screenshots, click here.
You either already love Penguins or you will definitely grown to love Penguins! Come play great games, join in on special activities and chat with others. This game will not only keep you totally occupied but  you are going to have a real ball!
Club Penguin strives to build a wonderful sense of community with charitable events, promotions and fun contests. If you like games that make you feel good, you are going to love Club Penguin!
Watch more videos on their YouTube channel: Club Penguin on YouTube.
Club Penguin is free to play.
NOTE: this game has been discontinued. Find similar games here: Social Worlds.
Sooo, did you think this game looks cool? If yes, Like!