NOTE: this game has been discontinued. Find similar games here: Chat Worlds.
Virtual worlds are pretty amazing, and continue to get more so every day. However, many are one sided, and while social stuff is fun, having other options to keep you interested is even better. And this is where Chit Chat City truly shines.
To start, you get to draw your own avatar, complete with clothing and accessories, all utilizing a 3D canvas. Then, use that avatar to meet others from all over the world, all with the anonymity that virtual worlds are famous for. Now this is where Chit Chat City really becomes amazing – you get to build and furnish your own house. And not like "choose this layout; pick a paint color; done." Like – you actually build the entire thing exactly as you want from the ground up. No matter where you want your door, windows, bedroom, what-have-you – you can put it there.
Your house is part of a larger neighborhood made up of homes created by other people all over the world. Once your house is built, you can add furniture, meet new people, farm, get a pet, and have company. Essentially, whatever you plan to do once you're out on your own, you can do in Chit Chat City. And if you're really feeling motivated, you can also turn part of your house into a shop!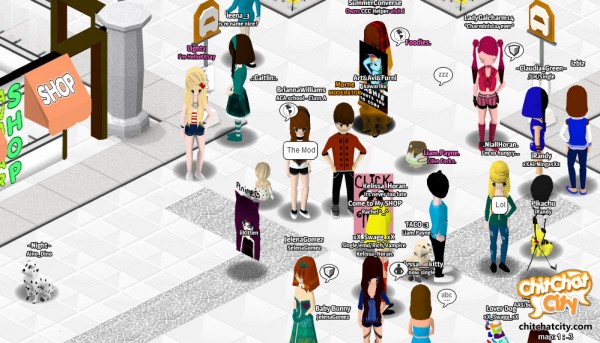 For more screenshots, click here.
Other game features include zombie hunting, contests, fishing, gardening and many other activities which will let you earn credits to spend within the game world.
Best of all, Chit Chat City won't cost you a dime (unless you want to speed things up buying credits). Interactive, a great way to meet new people (curious what French guys are like? Now you can find out!), Chit Chat City can't be beat!
Watch more videos on their YouTube channel: Chit Chat City on YouTube.
Chit Chat City is free to play.
NOTE: this game has been discontinued. Find similar games here: Chat Worlds.
Sooo, did you think this game looks cool? If yes, Like!