Here is a list of games that are similar to Fab Fashion.
Juliette's Fashion Empire
Juliette's Fashion Empire is all about helping Juliette run her own empire. Using her skills and your effort, you can prepare all of the models for the work ahead. They will look great while walking on the catwalk and your clothes are going to look phenomenal every step of the way.
Fashion Fits
With different customers and a lot of work to do, Fashion Fits is going to challenge you. Make sure that you do not let it win, though. By helping each of the customers get what they want quickly, you will be able to succeed and make everyone satisfied with the work that you do.
Fashion Rush
Satine is in need of your help. She is just within reach of having her dreams come true, but you need to make it happen. Help her become a popular name in the fashion industry with hard work and a lot of skill. With plenty of outfits to make and sell, you can do this.
Fashion Dash
Coco has the talent, but she still needs your help. In Fashion Dash, you need to make sure that Coco's job is being done. Help the customers as they come in and make it to the top of the fashion industry. With a little push and some hard work, you can do this.
Fashion Craze
Until now, Maria has worked as a journalist. That is, until her aunt asked if she wanted to work at the fashion store. This new job was a once in a lifetime thing, so there is no way to pass it up. Fashion Craze takes you down Maria's stressful but rewarding path of working at this new store.
Fashion Story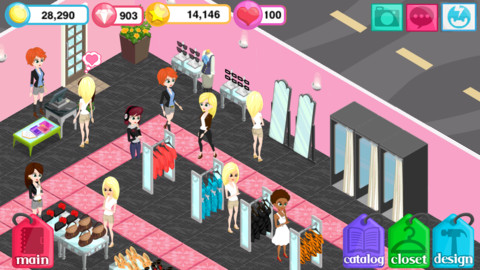 Fashion Story is all about your store. You are going to start it up small and watch it grow into something magnificent. Use your knowledge to sell the items and your creativity to customize the store. Turn it into the perfect high fashion boutique that you have always wanted to own.
GalaStories
2000 quests were not enough for GalaStories. To make it even more exciting, you have customization, selling of your designs, exploration, socialization, and so much more. The possibilities with this game are nearly endless, and you can enjoy them all. You will never want to leave your computer from the moment that you begin.
For more games like Fab Fashion, check out Fashion Worlds category.