Meshmoon is an online virtual reality hosting system and is a great place for you to build a 3-D world and to also check out other worlds that have been created by creative individuals like you! Meshmoon worlds can be accessed with the Rocket client which is similar to Tundra software and Meshmoon can be accessed by anyone and best of all you do not even have to pay unless a world you are going to decides to charge you to visit it.
These worlds are open to anyone and there are tons of other people on these worlds for you to play and socialize with making them fun and exciting places to visit.
It is super easy and fun for you to create your own 3D virtual world and the best part is that it takes no time at all and you can have your virtual world up and running in about 1 minute. All you have to do is go through the public layers and applications supplied by Meshmoon and pick the ones that you need or want and you are ready to create your own little virtual world.
Meshmoon is a great way for you to create a world that you have only imagined and the best part is that it is free and fun not only for you but also for others that want to check out the world you have created. You can go through and build the world from the ground up and then other players can enjoy the world that you have created.
Meshmoon is great because you not only get to create new worlds but you can also visit them and see what other people have put together. If you want to host your world on Meshmoon you can do the limited free trial or work out a contract with the creators of Meshmoon so that you get a reasonable price for hosting your world on their hosting system.
Although you have to pay to put your world on Meshmoon you usually do not have to pay to simply go around from virtual world to virtual world. If you choose to create your own moon that you can start off with the free Cheese moon and work your way up from there as you become more familiar with the program and how to build your worlds. Something to keep in mind though is that as you change moons and go for the higher level moons and moons that have more users than you also have to pay more.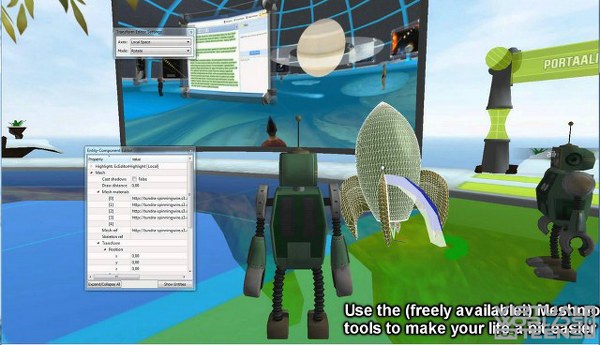 For more screenshots, click here.
But again do not forget Meshmoon is a great place to start off if you are interested in creating your own 3D virtual world and it is also a fun place to go to look at other moons that people have created and to explore all of the different worlds out there created by people.
Meshmoon is a fun and usually free place that you can go to see other worlds that people have created by using simply their imaginations and the tools available for them. You can also create your own moon but it may cost you a little money!
Watch more videos on their YouTube channel: Meshmoon on YouTube.
Meshmoon is free to play.
Sooo, did you think this game looks cool? If yes, Like!