NOTE: this game has been discontinued. Find similar games here: Singing Games.
Karaoke Joysound is a fun karaoke singing game where you can test out your vocal skills while challenging your friends. There are over 1,000 songs that you can choose from using online streaming from your Nintendo Wii. Choose your song, set your stage, and get ready to challenge your friends to a sing-off!
Karaoke Joysound is the ultimate experience. Using your Wii online streaming feature, the game allows you to access rental tickets which you are able to purchase songs with. There are several new songs added monthly as well. Rental tickets range from a 24 hour pass, a 3-day pass, or a 30-day pass.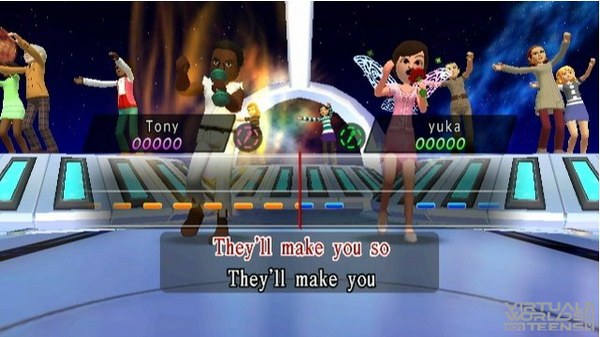 It is jammed packed with today's hottest and most popular hit tracks, with nearly over 30 songs per genre. You are given an avatar that you can customize by earning points from winning performances. There is also the option to customize the backgrounds and stages. The game offers multi-player games and mini games with up to 8 players.
If you are a person who loves to sing, who loves karaoke, and singing in competitive style, you are going to love this game. Having a party, or a wedding? Karaoke Joysound makes a great party game. Pass the microphone and get ready to have a great time!
If you want to be able to download newly updated songs every month you must have an internet connection. Karaoke Joysound is frequently adding new songs so you want to be sure to keep the game updated with the latest and greatest songs to keep the party jumping. What could be better than having a game that you can take an avatar and custom design their look, and the stage that you rock out on, as well as the background. The challenge of advancing levels so that you can earn more looks is one of the best parts of this game.
It doesn't matter if you are a child or adult, you are sure to have the best time playing Karaoke Joysound. The game is guaranteed to bring you hours of fun and be the life of the party. Make Karaoke a family night activity or an office party success; whatever it may be karaoke is always sure to be a big hit.  The endless song choices and the amazing quality make the game more interesting and enjoyable.
For more screenshots, click here.
Karaoke is a past-time found in clubs and bars, and frequented, at birthday parties and weddings. Your guests can't get enough of showcasing their singing skills, and even making a fool of themselves and earning laughs and claps from the audience. You don't have to be Mariah Carey to get up and sing on Karaoke Joysound.
Karaoke Joysound is endless fun for the whole family. You can keep the kids busy, or bust the game out when the kids are away. If you don't have kids you can make it a nightly routine. Whatever the case you will not want to miss the fun with Karaoke Joysound!
NOTE: this game has been discontinued. Find similar games here: Singing Games.
Sooo, did you think this game looks cool? If yes, Like!