We all have our favorite games, and we're pretty sure that you're currently plugging away at one or two of yours, working through levels and puzzles until you master it. However, everyone needs a break once in a while, and given the amount of superbly awesome new games out lately (many of which are free), we'd suggest setting aside some time and checking out at least a few of them. So what's been released lately? Honestly, what hasn't!?!
Haunted Hallow by Firaxis is finally out, it's totally free, and as far as we're concerned, one of the best strategy games out there right now. If you love working your mind and getting deep into a game, you shouldn't miss out on this one.
The long awaited Angry Birds Friends is out, and it gives your favorite game a new, social media twist. And as a bonus, it's totally free (and available on Android devices as well). Basically, it works with your existing game and your Facebook so that you can challenge your friends, get in on weekly tournaments, and earn some trophies. And we love trophies almost as much as we love Angry Birds!
Are you a fan of Robot Unicorn Attack? Well, the newest version was finally released, and if you loved the first, this sequel will certainly not disappoint. Robot Unicorn Attack 2 lets you customize your unicorns (from mane color to the trail it leaves behind it), work towards goals and prizes every day, and fight giants, owls, and space whales (because space whales and unicorns go hand-in-hand, dontchaknow). Oh, and it's free!
For your iPad, check out Eclipse. Based on the best-selling board game, it's only $6.99 and incredibly fun. Like its namesake, you get to explore new star systems, research all of them, and run an entire civilization. It's just complicated enough to be engrossing, but not so much that you feel like you're "working."
Don't like shooting games? Well, Wizard Ops has come out with a strategy based version of its original shooter game called Wizard Ops Tactics. Based on strategy rather than guns (there are guns, but it's not the focus), it's free and certainly worth checking out.
And for a twist, a new interactive book is available for just $4.99. Steve Jackson's Sorcery is getting excellent reviews since its release a few days ago, and given the price point, there's no reason to skip this one over.
For our younger readers (or parents), WemoLab finally released a new iPad game called Superfugu, which is based on the massively multiplayer game theBlu. The main character is a super-adorable puffer fish that is trying to protect his reef while saving various sea creatures. It's free, educational, and there are plenty of parental controls should you feel you need them. As a bonus, there are also reports on performance (either for you as the player, or for parents of younger children) to see how much you're / they're progressing and learning. And they also stop you from buying in-game purchase, eliminating those surprise credit card bills. Of course, this game is unique in that it works with theBlu, which means Superfugu is enjoyable for nearly any age.
… And The One to Watch Out For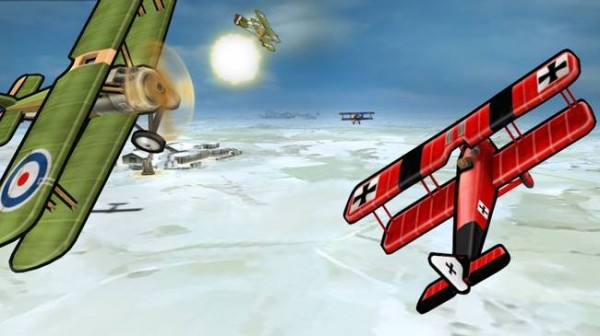 This is coming up on Thursday, May 9th. And what is it? The long-awaited release of Sid Meier's Ace Patrol. This iOS based game is completely strategy centered and perfect for the more adventurous of players. It's based in World War 1, and has players working on aircraft in the sky, positioning fighters and working as pilots, all while dealing with over 30 different types of aircraft. Unlike a lot of the more "boy" friendly games, the level of strategy and thinking that this requires is in a league of its own, and it is most definitely not focused on gore or anything else unappetizing. You can play single player, two player, or multi-player, and many of the first levels are free (while you have to pay $2 for each additional one). So come Thursday, be ready to download!
—
Sure, it's finally getting warmer out, the weather is improving, and for many of us, a long awaited summer vacation is slowing coming into view. With these games, you can make those rainy days fly by, time between homework stress free, and explore new ideas and games, all in the comfort of your own home. Check out a few of these newest releases, and let us know what you think!