October is quickly coming to a close, and with the holidays right around the corner developers and tech gurus are gearing up for the biggest buying season of the year. To that end, there's a bunch of new toys to play with soon, including two new iPads (finally!) and an Android specific mini-console, as well as exciting news from two of your favorite games.
The New iPad
We knew it was coming, and this week Apple announced the latest addition to their impressive line-up: the fifth generation iPad. Dubbed the iPad Air, it is much thinner and lighter than its predecessors, available in standard and cellular models, and, according to Apple, it's more powerful as well.
So what are the basics? The screen is 9.7-inches and the iPad itself is just a mere 7.5 mm thick. The whole thing weighs in at just one pound, and it comes with a 5mp camera, two microphones, and iPhone favorite Siri. Oh, and it's outfitted with Apple's famed Retina display.
Both the iPad air and the new iPad mini (2,048-x-1,536 Retina display with 16GB) will go up for sale on November 1st. Both feature the latest A7 chip, making the iPads faster than ever. You can snag the iPad Air (16GB) for $500 or more, and the iPad Mini for as little as $400.
Ouya Available Soon
A few months ago we discussed the Ouya, the Android mini-console that's slowly building up some impressive buzz nationally. Well, it looks like they've succeeded (or are well on their way to success)!
Ouya has struck a deal with none other than Target to begin selling their console in the beginning of 2014. And they aren't just selling these mini-consoles: many Target stores plan to have demo kiosks set up (allowing you to play games such as Clark, Fist of Awesome, and Towerfall), and will be offering a $10 promotional gift card when you purchase an console through them.
If you're one of the unlucky few who is not close to a Target (you have our deepest sympathies), Ouya is currently talking to Wal-Mart regarding a similar deal.
Metal Gear Solid Open World
Metal Gear broke onto the gaming scene way back in 1987, and since then has become one of the most popular action/stealth video games in the world. With the constant changes in technology and the shift in direction from console games to virtual reality, or a mix between the two, Metal Gear is striving to keep up with the times and their next addition to the series, Metal Gear Solid V: The Phantom Pain will be the first open-world game in the series.
Of course, the developers have their own take on what "open world" actually means. While players won't be able to lead the main character, Snake, to a domesticated life with family and a 9-to-5 job, they will be able to completely explore the world, just with a bit of game-play direction. Players will be able to move anywhere on the game map, yet still have to complete missions, dependent on where they are.
Developers are still working on the game so current details are a bit limited, and there's no release date as of yet. However, Metal Gear Solid V will be available on your favorite consoles, including Xbox 360 and One, PlayStation 3 and 4, and PCs.
Angry Birds are Moving
Some would argue that Angry Birds brought mobile gaming to an entirely new level, fully infiltrating the everyday lives of people around the world. Well, Angry Birds is going to step it up a bit, updating the Star Wars version so it can be played on the new Xbox One and PlayStation 4, possibly as soon as November (to coincide with the release dates of the next-generation consoles).
This means you'll be able to play one of your favorite games on a much bigger screen than your phone is currently sporting. We're excited!
Plants Vs. Zombies 2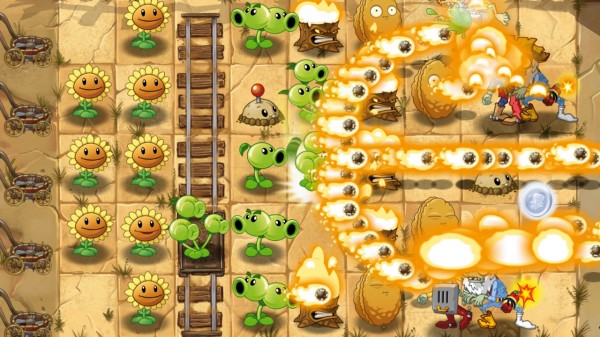 Since August, 25 million players have downloaded the Plants Vs. Zombies 2 game to their iOS device, thoroughly enjoying the tower defense video game, complete with stunning graphics and fast-paced game play.
And Android users have been left out in the cold.
Well, today, the game is finally available in the Google Play store here and, as with the iOS version, it's free to download and play.
This has been a long time coming, with some reports indicating that Apple's been trying to stave off the Android version to hold onto sales. Either way, you can get it now – check it out and let us know what you think in the comments below!