Here's a list of ice cream games where you can learn how to make an ice cream or serve it to your customers.
Papa's Freezeria
Papa's Freezeria is where you now work.  You are there to make money and relax, but all of that comes crashing down when you are left alone. You have to manage the huge increase in customers successfully, you have to make money, you have to make people happy, and you have to avoid big problems.
Homemade Ice Cream Maker
It is hot out in Homemade Ice Cream Maker, so you decide to make your own ice cream. You want the perfect texture and taste, and you want it all from your own home with fresh ingredients. Make it all from scratch and then decorate the scoops perfectly using what is available.
Barbie Ice Cream Parlor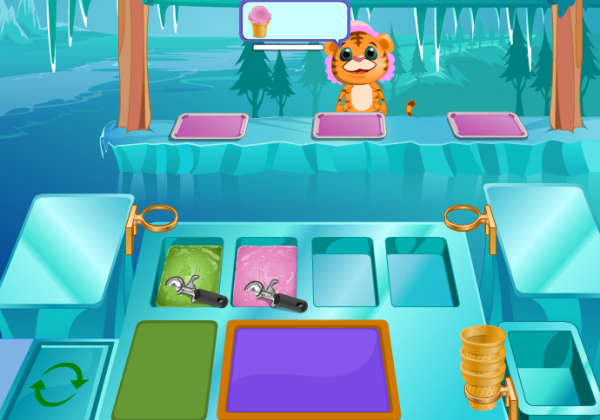 All of the animals are coming out for spring in Barbie Ice Cream Parlor. They are looking to you for some delicious treats, and you are going to give them what they want. Make the perfect ice cream for each of your adorable little customers and watch as they enjoy it fully.
Moshi Ice Cream Parlor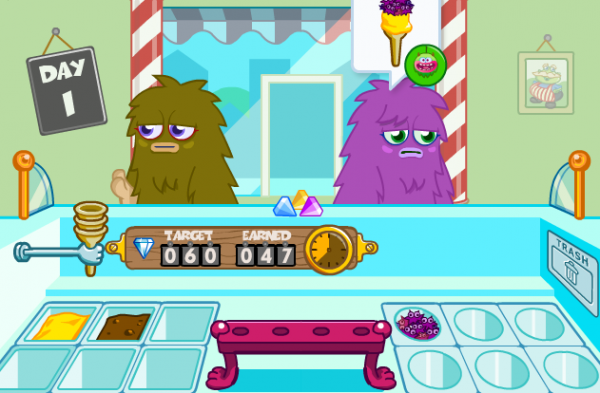 You are running the most popular ice cream shop in town in Moshi Ice Cream Parlor. Summer is just starting and you have crowds lining up to buy ice cream from you, expecting the very best. Manage these long lines in this time management game, giving everyone the desserts they crave.
Mama's Ice Cream
Running Mama's business in Mama's Ice Cream is hard work. You have to get all of the customers' orders and follow directions exactly, which does get a bit challenging at times. Make the customers happy, give the people what they want, and help the business to survive while Mama is away.
Yummy Ice Cream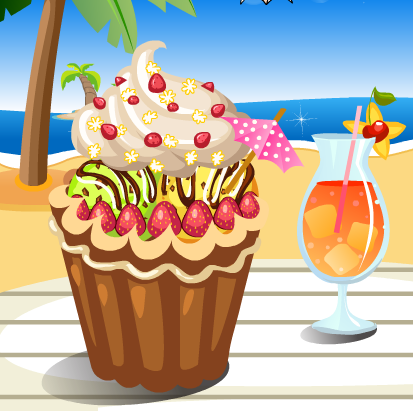 Ice cream is always a wonderful treat, no matter how old you are. It tastes great, the texture is oftentimes perfect, and nothing feels better than something cool on a hot Summer day. In Yummy Ice Cream, you have the chance to experience it all and decorate your own ice cream with ease.
Banana Split
Summer is here, which means it is time to find ways to cool down! You can do this through swimming and a fan, of course, but nothing beats some good ice cream. In Banana Split, you are going to make your own using all of your favorite toppings and following the directions as they are given.
Ice Cream Factory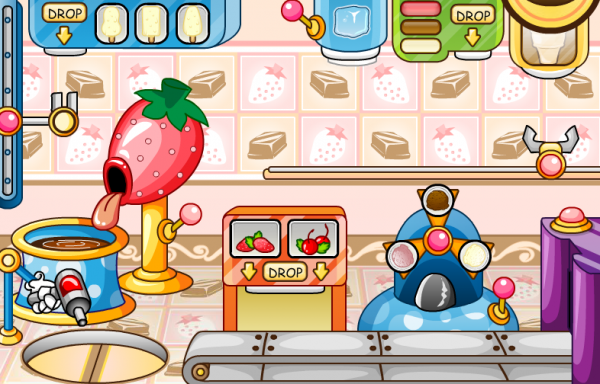 You have invented a brand new machine in Ice Cream Factory! It helps you to make ice cream in a fast, new, and fun way that all will love. Play to see just what this machine can do, give the customers what they want, and enjoy yourself to no end making great treats for all.
Ice Cream Stand
In Ice Cream Stand, you are running a stand where you are going to sell ice cream to hungry people as they pass by you. You are going to give people the frozen treats they want and you are going to make custom orders. Hurry to serve everyone while having fun with these custom-made ice creams.
Monster High Ice Cream
Join the Monster High crew in Monster High Ice Cream! It is an ice cream game with a Monster High theme, giving you a rather "cool" experience. If you love the students and want to make a nice Summer treat yourself, this is what you are going to want to play.
Monster High Draculaura's Ice Cream
Monster High Draculaura's Ice Cream is a decoration game where you can create a masterpiece out of ice cream. Use your creativity and what you have available to you to turn a few basic ingredients in an amazing work of art that will leave everyone speechless and wanting to taste it for themselves.
How To Make Banana Split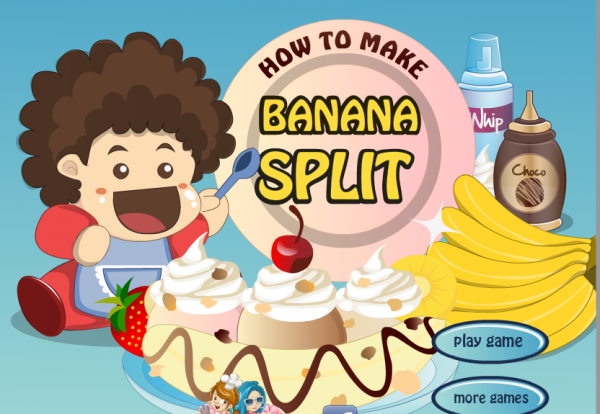 Anyone who has ever had a banana split before knows how delicious these treats are, but have you ever wondered how to make one yourself? In How to Make Banana Split, you are going to learn! It is a fun way to make your favorite Summer time treat. Follow the directions and watch it take shape.
Ice Pop Maker Multi Color
Stay cool during the Summer in an exciting way thanks to Ice Pop Maker Multi Color! Follow the directions to create icy cool treats using your favorite fruits. When they are all frozen and ready to eat, you and your friends will have a great way to stay cool and hydrated once the heat hits.
Sara's Cooking Class: Berry Ice Cream
Sara's Cooking Class: Berry Ice Cream teaches you how to make berry ice cream in an entertaining and interactive way. It is going to make it easy to learn how to make such a treat, helping you to get the dessert that you love without having to settle for the store bought quality.
Want to be a chef and serve the most delicious food to your customers? Then here's a list of Cooking and Kitchen Games for you.