The buzz in the tech world is crazy after CES 2014 wrapped up this year, and we're waiting with baited breath to finally get our hands on some of the awesome tech that's coming our way. To start, some researchers / artists in Spain are taking the potential for Oculus Rift to an entirely new level, and Alienware, one of the most promising companies coming out with a Steam Machine by the end of 2014, is trying to clarify some bad-ish press on the customization capabilities of their upcoming product. So let's dig in!
The Virtual Gender Swap Experiment
We're all about the upcoming awesomeness that is the marriage of the Oculus Rift and virtual reality games. But more and more researchers and developers are finding ways to utilize virtual reality, and the Oculus Rift, to do more than game. BeAnotherLab has developed a "gender swap" experiment using the headset, essentially transforming virtual reality, which lets you feel as if you're somewhere else, and using it to make you feel like someone else.
Right now, the experiment is focused on couples. The lab outfits each better-half with an Oculus Rift, and then synchronizes their respective movements, allowing them to see and feel the other person's body through their own eyes. The tech used is a mix of first-person cameras and our much-beloved Oculus Rift. Together, it allows you to see what the other partner's camera is recording.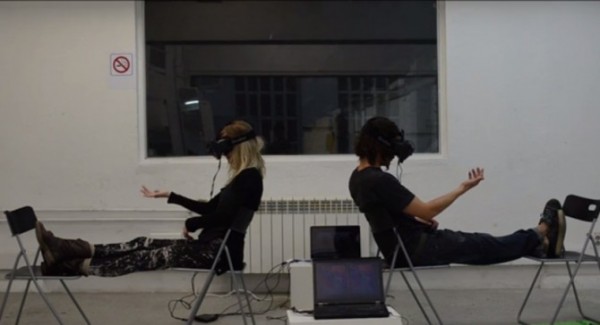 So how does it all go down? One part of the couple is set as the "user," while the other is the performer. The performer conducts a series of movements and that information is transmitted to the user, who, via the Oculus Rift and a spoken narrative by the performer, actually feels like they're inside of the performer's head.
Who thought this up? A group of artists / tech aficionados in Barcelona. Right now, the researchers are focused on allowing one gender to see and feel what it's like to be the other, although it can also potentially show users what it's like to simply be in another body. Ultimately, outside of the cool-factor, BeAnotherLab is working towards using the concoction to promote empathy and understanding.
Alienware's Steam Machine: Details
With all of the steam machines set to come out this year, and the incredibly wide range of price points and features, it's kinda hard to keep track of them all. One of the most promising lines is Alienware's, which is one amazingly sleek looking console. But over the last week, the company has received a whole lot of flak when it stated that they planned to release a new machine every year, rather than allowing owners to upgrade the machine as they would a PC.
Which was weird. Because according to Valve, the mastermind behind this crazy project, the whole point of the Steam Machines is to marry consoles with PCs, allowing for the ultimate gaming experience complete with customization.
But Frank Azor, the boss over at Alienware, said earlier today that the "no customization" thing was just a poorly explained statement.
Gamers will be able to upgrade the box, but it's not going to be as easy as swapping out the hard drive in your desktop. But why will it be hard? Because Alienware focused on creating a powerful console-computer that was smaller than the standard consoles found in most living rooms. And when something's smaller, it's automatically harder to work on. However, the company assures that you'll be able to upgrade components – if you feel like tackling it.
There's still no word on price (although the company insists that its Steam Machines will be "competitive to next generation consoles.") Alienware plans to release the machines in late 2014.
New in the App Store
Get your iPhone out and your download finger ready!
Doodle Kingdom ($1.99): The third installment in this series, this puzzle game has you mixing and matching an array of stuff, and it's an all-around good time! Oh, and you can get it in HD for just $2.99!
Tower Madness 2 ($4.99): While we're side-eyeing the price on this one, we're going to have to think of the safety of those poor sheep. Use your towers to defend them from invading aliens!
TripTrap ($0.99): This bargain buy is a fun puzzle game starring a mouse and his cheese.
Sunday Lawn (Free): A puzzle game about mowing the grass. Need we say more? Ultimate boredom killer during lunch or after homework and you don't have to finagle use of a credit card from mom or dad.
Let us know what you think in the comments below!