---
Star Stable Video Games
Care, Train, Compete, and Master the Art of Horsemanship in these Star Stable 4 seasons-themed video game series: The Winter Riders, The Spring Riders, The Summer Riders, and The Autumn Riders.
---
Star Stable Custom Tees
If you'll search for Star Stable merchandise online, I bet you wouldn't find much. But here's a thought, why don't you create and design your own Star Stable t-shirts?
Go check this website at spreadshirt.com.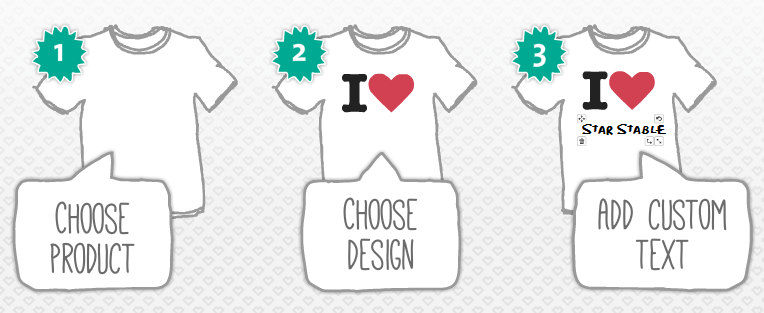 You can do this in 3 easy steps. Choose a product. Choose your design. Add custom text. That's it!
---
Star Stable Bags
Here's another gift suggestion. Yes, Star Stable bags.
Did you know that Zazzle.com offers various custom bags? You can design from laptop/commuter bags, cosmetic bags, messenger bags, and tote bags. See examples below.
---
Star Stable Key Chains, Buttons and Magnets!
Some of the customizable accessories include key chains, buttons and magnets. Go to Zazzle.com.
See examples below.
---
Star Stable Mugs
Add your Star Stable artwork on these mugs that you can design at Zazzle.com.
---
Star Stable Cases and Sleeves
Personalize your cases and sleeves with your Star Stable images at Zazzle.com.
---
Other Cool Items
There are tons of customizable items available at  Zazzle.com. Make your own Star Stable desk organizers, mouse pad, notebooks, wristwatches, pen, bookmarks, laptop speakers, throw pillows, flash drives, and so much more. Enjoy shopping!
---
Star Stable Wallpapers
Decorate your desktop and fill it with the colorful world of Star Stable. These are some of the images we found online. We hope you like it.
---
NOTE: We are looking to improve this page – if you discover some Star Stable gifts sold online, please leave a link in comments below. You can also leave an image of the merchandise, and we will make sure to find out where it's sold at!
If you like, let us know what products are on your wishlist