A few of your favorite virtual worlds have been super busy with updates and new events this month. ourWorld offered a new box, IMVU went crazy with new features, Smeet rolled out a new room for your 3D Home, and Dance Central is wrapping up its first challenge of 2014. If you've purchased any of the new items, explored the updates, or challenged yourself, let us know what you think of these latest offerings in the comments below!
Our World Paper Heart Box
ourWorld is known for creating limited-edition "boxes" for players, and right now they're offering the Paper Heart Magic Box. Over time, this box transforms into new items, going through multiple stages. For this one, the first stage includes sealed love letters, of which you'll receive one (which is why it's called a magic box!). You could get access to a: true love letter, secret love letter, sweet love letter, wicked love letter, or a hyper love letter.
From here, the box enters the second stage after you open your love letter (by clicking "use item"), offering you the themed love letter as a hand-held item. After a week, the Paper Heart Magic Box enters its final transformation, offering you a specific item. It could be a staff, vest, brooch, eye patch, long hair, short hair, jetpack, roller-skates, wings, romantic rocker, or a love aura.
You can purchase more than one box, upping your chances of getting the item you really want. Let us know in the comments below what you get!
IMVU Updates
IMVU is notorious for listening to its players, and they're currently rolling out an update that's been much requested: the ability for customers to shop together. As with most updates, the roll-out is coming in stages. Certain VIP club members had access first, as well as anyone they decided to invite for the test run. Eventually everyone will have access.
The update allows two people to shop for clothing and accessories together, including trying them out, buying them, and chatting about them. You can also shop together, two people max, for gifts. Right now, the update does not include furniture, poses, rooms, or anything else: just clothes and accessories.
IMVU has also released a new Chat Now feature, which automatically matches you to someone else currently using the feature at random, allowing a private one-on-one conversation (although they do ensure that teens are matched with teens, and adults with adults). You start out in the Buckstars room, but you can move to other spaces if desired. This allows players to meet new people, expanding their experiences within the platform.
Chat Now is still in testing mode, but it should be available to everyone soon.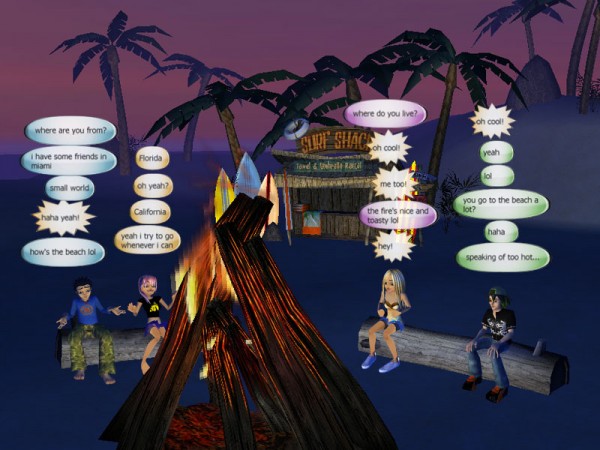 In other news, IMVU's most recent update shows VIP discounts in the shop, allows users to test themes, and fixes crashing issues while improving the performance of the chat room search.
All in all, IMVU has been super busy, and hopefully these features make your experience better!
Smeet Winery
Smeet created yet another new room, and this time it's a virtual Winery! The startup costs one coin, which allows you to turn grapes into wine, including growing them and employing other players to stomp them. From there, you let the wine ferment. After you finish the entire process, you'll earn the Wine Expert Badge as well as a gallon of Fame Points. The room is added to your 3D home, and is only available for purchase once. And for all of your friends who help you earn your badge, you can enjoy a glass of virtual wine together!
The site's also added a new update, allowing you to purchase additional "helps" from the shop. However, you can only do this once! The update also allows you to ask your friends for help directly without sending them messages: all you have to do is go to Helps and click on "ask your friends." The system will do the rest for you!
Dance Central 3 Fitness Challenge
Dance Central 3's fitness challenge is coming to a close. The last challenge included making a playlist of 10 to 15 of the site's most challenging songs, and play them at least 3 times during the week. Options include Because of you (Ne-Yo), Bust a Move (Young MC), and Call Me Maybe (Carly Rae Jepson), among others.
This is the end challenge of their 2014 Fitness Challenge, but next week they'll be doing a wrap-up of the entire event! You can also get fitness tips on their Twitter, Facebook, and on the site's forums.
Welcome! Sims 4 Preview Released Electronic Arts recently released a 20 minute video showcasing the upcoming Sims 4, scheduled to be released on September 2nd. And based on the video, it appears that EA is planning to roll out a system similar to the Battlefield Premium service, which allows gamers to access new content early […]