Here is a list of games that feature the talented and beautiful singer, Ariana Grande:
Dress Up Ariana Grande
Dress Up Ariana Grande and experiment with her style whichever way you want. Choose from a wide selection of jackets, tops, dresses, shorts, skirts, ballerinas, stilettos, handbags and colorful accessories and give Ariana a stylish look. What's more, you can also save the final image, print it and or email it to a friend!
Arrange the Pieces Ariana Grande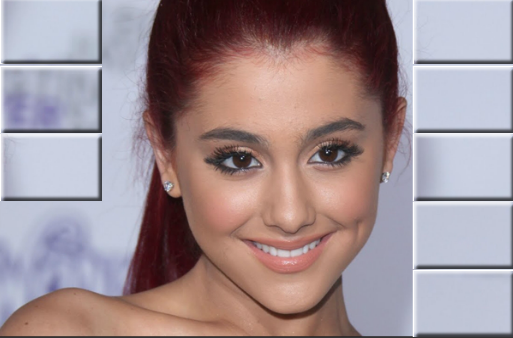 Solve the jumbled pictures of Ariana Grande and put the puzzles in place with 'Arrange the Pieces Ariana Grande'. You will have great fun arranging the various famous pictures of Ariana in order. As you will practice, you will get better and will be able to arrange her pictures in seconds.
Ariana Grande Make Up
Give your beloved celebrity a cool and refreshing makeover with Ariana Grande MakeUp.  Change her hairstyle, give a nice color to her cheeks, lips and eye shadows, put on a nice necklace, change the color of her lenses and put a stylish top on her to make her look beautiful and attractive whichever way you want.
Image Disorder Ariana Grande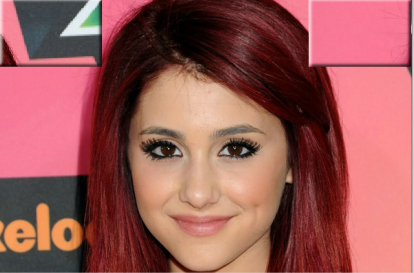 A fun and challenging image puzzle game, Image Disorder Ariana Grande allows you to solve the jumbled pictures of the cool and beautiful teen celebrity as fast as you can. The timer turns on the moment you click on the 'play' button. The faster you solve the jumble, the more points you get!
DM Quiz- Ariana Grande Lyrics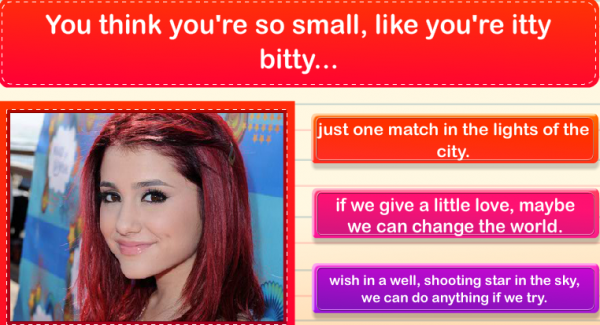 Are you a super fan of Ariana Grande's melodious voice and know all her songs by heart? The 'DM Quiz- Ariana Grande Lyrics' contains quiz questions in the form of incomplete lyrics sung by Ariana Grande followed by three options that contain the lyrics which could complete the ones given in the question.
Me for Ariana Grande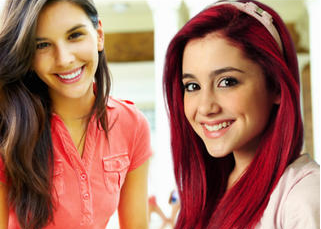 A fun and entertaining game for those with an iPhone or an iPad, Me for Ariana allows you to have Ariana Grande in your pictures! Yes you read that right; you can choose from among the various Ariana Grande poses and have her in the pictures stored in your iPhone or iPad.
Ariana Grande Makeover 2
You will be manipulating everything using the mouse in this fun filled makeover. You will be doing a complete makeover on Ariana Grande. What Ariana is looking for is a stylist with skills, and that would be you. Are you prepared to take on the task of choosing how she looks?
Ariana Grande Trivia Quiz
If you think you know Ariana Grande very well, take up the Ariana Grande Trivia Quiz and answer a set of 8 questions to know how well you know her. You get 15 seconds to answer every question. If you know her well enough, you may be able to answer all right!
Ariana Grande Hair Spa
Hey girls, Ariana has been invited to a wedding and is in dire need of a new hairstyle, makeup, and she would like to visit the spa before it's over. She will also need special clothing for the wedding attendance, which you can get from her enormous costume closet, she has several different ones.
Ariana Grande Inspired Hairstyles
Here's your chance to show off your hair styling abilities. The famous singer and actress Ariana Grande has decided to get a totally new hairstyle. Would you help her in finding something that she will not only like, but also fits her personality? If you are able to satisfy her taste in hairstyles she will be forever in your debt.
You can also check out our list of Pop Star Games to enjoy fun time with your favorite celebrities.