Welcome!
Oculus Rift: Crash Test
The guys behind the Oculus Rift have been making their rounds through exhibitions lately, showcasing their technology. The latest display occurred in Australia at the Sydney Royal Easter Show, where the Oculus Rift was used to promote road safety by recreating a car crash experience for testers.
The software, available for free at the Oculus VR Share Beta (note: it only works if you have an Oculus Rift VR headset), simulated two crashes into a wall with the only difference being the vehicle: a 2014 model and a 1982 model.
Obviously, this isn't really a game (it was done to support the push for drivers to buy newer cars that meet current safety standards), but the overall effect is pretty amazing, and only goes to show how far Oculus VR has taken virtual reality experiences, despite the fact that the headset hasn't even been technically released yet.
The demo works on both PCs and Macs. However, if you aren't one of the select few who has gotten their hands on the new headset (still no word on an official release date) you can view users experiencing the demo here.
Virtuix Falls into Money
Virtuix, makers of the Omni virtual reality treadmill set to begin retail shipments in July, recently secured a whole lot of funding from investors, to the tune of $3 million, a solid $1 million more than they raised last year through their Kickstarter campaign.
This is exceptional news for Kickstarter backers and customers alike: the influx of cash will allow Virtuix to expand their operations and potentially ship out Omni sets much more quickly than previously announced, although the company hasn't altered their time tables yet.
PS4 Augmented Reality Showcase
Sony is proving to be one of the few classic gaming companies recognizing the shift in virtual reality technology and blazing their own trail down the same path. Their latest offering is in the realm of augmented reality, with the PS4 AR Fluid Simulation and the PS4 Dynamic Lighting, recently showcased online.
The Fluid Simulation can accurately simulate the look of fluids (hence the name) while the Dynamic Lighting recognizes real light sources, using this information to alter the look of models displayed in a virtual game, going so far as to allow them to cast shadows. This relatively small, specific piece of technology will dramatically alter how games look in virtual reality settings, allowing models and objects to seem as if they're blending into your surroundings, rather than just being superimposed over your field of vision.
While this technology is in its infancy, it's pretty exciting for virtual reality overall!
The Side Effects of a Digital World
GameStop is the go-to retail outlet for console gamers. But as gaming moves more and more to the realm of digital distribution and streaming, many gamers are opting out of buying the physical game. Obviously, this has caused GameStop's revenues to drop off, and they're planning to close up to 130 branches worldwide.
However, they want to rectify the situation. They're shifting focus to mobile gaming, opening an additional 200 to 250 Spring Mobile stores, adding on to their existing 164 locations. They're also adding up to 25 Simply Mac stores. These chains sell AT&T and Apple products, not games, but it will give GameStop an edge in the mobile gaming world.
It will be interesting how the massive retailer changes with the times – stay tuned!
Full Body Virtual Reality? Survios Says Yes
Virtual reality startup Survios is working to incorporate movement into the Oculus Rift platform, creating a more physical gaming experience than ever before. The company is developing technology that converts leg and arm movements into virtual motions utilizing a sensor attached to the Oculus Rift headset, allowing users to walk through virtual worlds as well as interact with them, all without a clunky treadmill set-up. While the current technology attaches to the headset, it does have a limited range of what it can pick-up on. But Survios plans to expand the technology to attach it directly to your arms and legs for more accurate tracking (as well as to reduce weight placement on your head).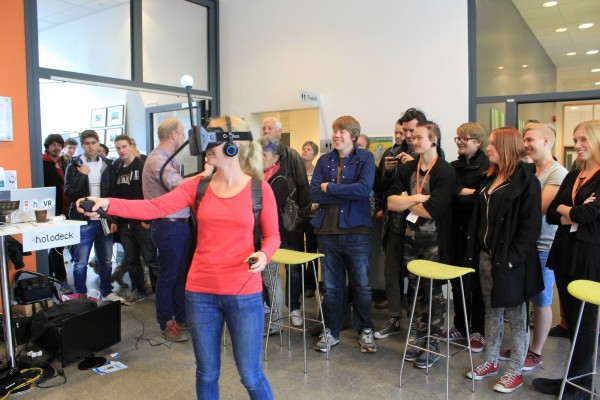 The original set-up included a backpack, but Survios has replaced this with a wireless system. They plan to spend the rest of the year building games specifically for the system, but there's no word yet on when anything will be released, although insiders expect a soft product launch by 2015. And according to the founders, they're also planning on building their own virtual reality headset, instead of using the Rift.
While February may be the shortest month of the year, it's definitely not short on awesome news! LG Making a VR Headset Electronics mega-giant LG recently announced that they'll be making their own version of a virtual reality headset in the same vein as Google's Cardboard and the Samsung VR Innovator Edition. The device, as […]
Hello there! Google: Virtual Reality Niantic Labs, a relatively recent subsection of powerhouse Google, recently announced a partnership with HarperCollins, publisher of the upcoming trilogy Endgame. The game will be a location-based augmented reality experience that runs on mobile phones, incorporating components from the real world to build an interactive environment around the central story […]