Here is a list of singing games online and for consoles like PS3, Xbox and Wii.
SingStar Dance
SingStar Dance gives you the opportunity to sing along with your favorite hit songs while dancing. This takes the game that you love to a new level, and even helps you to have more fun with your friends. Choose from some of the hottest new hits out there and begin enjoying yourself.
SingParty
Choose from many different songs over the past few decades and begin having fun, either on your own or with friends. You can sing and party with ease when you play this game, regardless of your voice. As long as you have the desire, you will be able to sing your heart out to the massive song selection available.
Big Time Rush
Join the Big Time Rush gang as you dance and sing to some of their greatest hits. As they take the stage, you will be able to join them as if you are part of the band! Make sure that your singing and dancing resembles theirs because, at the end, you are going to be judged on your performance.
Rock Band 3
Rock Band has come out with another version of its highly popular and successful game. With this one, you have several instruments and options available to you. Along with choices for gaming, you have music choices, as well. You can find a way to love this game and make the most out of it.
Michael Jackson: The Experience
Experiencing Michael Jackson like never before is easy with the new game, Michael Jackson: The Experience. Have Michael dance to some of his biggest hits in this attractive game that offers a great rhythm gaming experience. Between the music and the movements, you can play this for hours with becoming bored.
The Black Eyed Peas Experience
From your living room, you too can have the ultimate Black Eyed Peas experience of a worldwide party tour.  Dance right beside these hot stars for an unforgettable time of epic fun.  This game offers true inspiration straight from actual shows and music videos that will keep you rocking all night long.
Lego Rock Band
Rock on with LEGO Rock Band in a way you never could have imagined before.  This game merges together two widespread and raged about video game franchises to produce this ultimate rock experience.  Build your own band and quake the universe with your friends and family as this game is loved by all ages.
The Voice
If you ever wanted to be on The Voice, you have your chance with the newest way to compete. You will be able to play via gaming device and impress the coaches and watch them compete for you to join their team. You can even train in the Voice Coach mode.
Disney Sing It
Let your voice do your talking with Disney Sing It.  This game will keep you on your toes as you show off your talents.  Sing your heart out with tons of hot music available on this game.  Take your mic and step into stardom while you give your opponents some competition.
Karaoke Revolution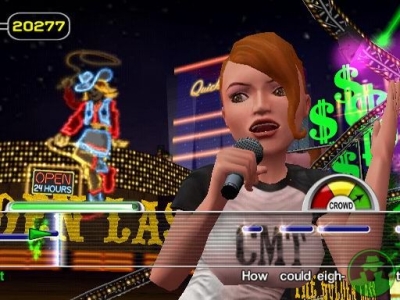 Tons of songs are available for you to sing to with Karaoke Revolution.  You will be able to sing along to many of your favorite songs while experiencing loads of fun.  Taylor your character to reflect your own personal style by adding different outfits and accessories to give you the wild you want.
Alvin and The Chipmunks™: Chipwrecked
Be one of the gang with this game.  You will be able to choose out of any of the chipmunks or chipette characters to play as yourself.  This game is for everyone and your family will have a blast with the music and dance moves this game offers.  Customize your character and get your party started.
SingOn
Experience karaoke without all the expensive equipment with this PC game.  You can choose from thousands of songs from classics to billboard hits. Challenge your friends to a singing match and rock the house!
Singing Superstar
Challenge up to 6 of your friends to a sing off with Singing Superstar.  Show your friends that you have what it takes to out sing them with ease.  Sing to your favorite songs.  You can even convert your favorite CDs, MP3, and even DVDs into more karaoke songs.  You will not have to miss out on any song, ever.
SingStar
This competitive singing game offers you the ability to sing to your favorite songs and preferred music artists.  This game will judge you.  It judges your timing, pitch as well as sustaining, and then gives you a score at the close of each song.  This game will show you your skill and help you improve it.
UltraStar Deluxe
Download a community or create your own themes with this ultra-cool game.  This game allows you to up to 12 players to sing along to some of the hottest music available allowing you to score points.  You will be scored on voice pitch and singing rhythm. Get your singing started with Ultrastar Deluxe.
Sing 4: The Hits Edition
Many singing games are easy to fake. As long as you can get the overall tone right, you can be a success. However, these games were not made for humming. Sing4 is truly a different experience. You can have fun while actually challenging yourself because it can tell the difference between humming and singing.
For more singing games, you can check out the Singing Games List.