---
Second Life Guide Books
Discover the world of Second Life in these helpful guides packed with tips and tricks to make your virtual life so much easier. These guides are available in Kindle and paperback. Get started, learn the ropes, explore and you will be surprised there's a bigger world out there.
---
 Second Life Gift Cards & Vouchers
This is an ideal gift for friends and family who are crazy about Second Life. Click here, to get a list of Gift Cards and Vouchers.
---
Second Life Linden Dollar Authorized Resellers
Did you want to buy some cool items and gorgeous outfits on Second Life but don't know how or where to get those L$? Linden Lab has given you more options and authorized third-parties to resell L$ using variety of payment methods and international currencies. Look for the seal (as seen above) to be certain whether you are dealing with an Authorized Reseller for a secure and reliable transaction. L$ are available at the Affordable Shop, AnsheX, FirstMeta, Coinek, VirWoX, Podex, DXexchange, and many more. Click here, to find the list of all the Authorized Resellers.
---
Second Life Personalized Tees
If you can't find any good Second Life teeshirts, here's a tip for you – make your own!
There's a cool website that you can check out, spreadshirt.com.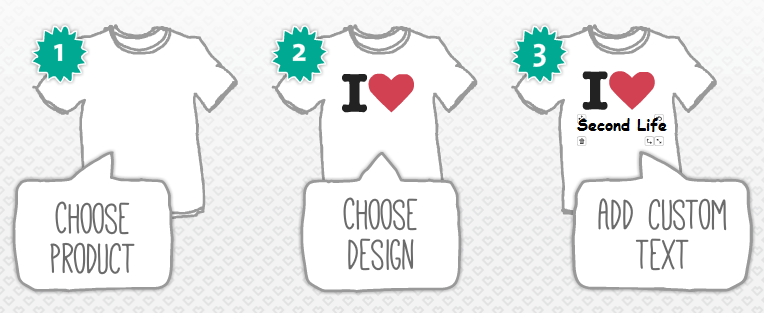 Here are the following steps in creating your own teeshirts: Choose the product or the type of shirt, select from any given designs or upload your own Second Life images, you can also add custom text and place your order. It's so easy, right? Here are some of the teeshirts we have made for you as an example:
---
Second Life Key Chains, Magnets and Buttons!
Get your own custom made Second Life key chains, magnets, buttons, and lockets at Zazzle.com.
We have made a few examples below.
---
Second Life Mugs
Design your own coffee mugs at Zazzle.com.
Here are some examples of customized mugs:
---
Second Life iPhone Cases, iPad Cases and other mobile Cases
Make your mobile case unique with these custom mobile cases at Zazzle.com.
Select a product, upload your chosen Second Life image and you are ready to place your order. Have fun!
---
Other Cool Items
If you happen to know someone who likes Second Life, then giving them a gift for the special occasion will be so much easier. At Zazzle.com you can almost find and create anything from gel mouse mat, faux leather wallet, throw pillow, embroidered hat and so much more! Look for custom-made items, and you will find many items to choose from. Enjoy hunting!
---
Second Life Wallpapers
Here's an extra treat for you! We have found a few beautiful Second Life images online that you can use as your desktop wallpapers. Aren't they all lovely? We hope you will like it!
---
NOTE: We are looking to improve this page – if you discover some Second Life gifts sold online, please leave a link in comments below. You can also leave an image of the merchandise, and we will make sure to find out where it's sold at!
If you like, let us know what products are on your wishlist