---
School of Dragons Cash Cards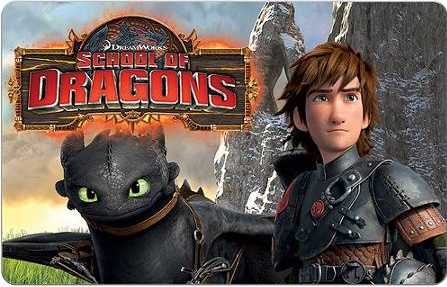 Get 1,600 gems with any $15 card.  You don't need a credit card to buy your School of Dragons virtual currencies. You can get this in the local stores near you.








 If you live in United States: Target, Walmart, Toys R Us.

 If you live in Canada: Shoppers Drug Mart, Toys R Us.

 If you live in Brazil: Saraiva, Livraria Cultura, MM Santos, Onofre, Rock Laser, Zero3  Games, 100% Video, Xplode Games, Next Level Games, Moove, and Player Games.

 If you live in United Kingdom: WHSmith and Game.
 If you live in Australia: Coming soon to EB Games and Big W.
 If you live in New Zealand: The Warehouse and EB Games.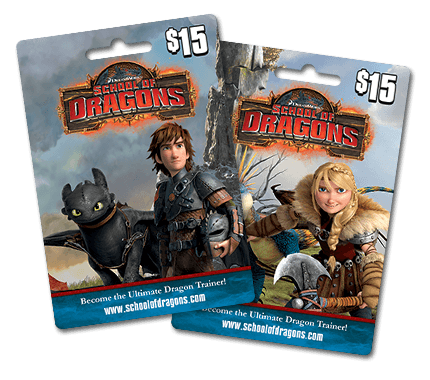 Login to the game to redeem your card.
---
School of Dragons Real World Tees
It's been a while since the movie has been shown on widescreen but there are still a lot of tees available out there for "How to Train Your Dragon". However, if you want the game version of the movie which is "School of Dragons", I doubt there are any tees out there available. So if you want to create your version of SOD clothing, you can go to spreadshirt.com and start designing your own.
Just follow these 3 simple steps and you're ready to order your amazing School of Dragons teeshirt. Choose your type of clothing, choose design or upload your fave images, then add custom texts if you like.
See examples below:
---
School of Dragons Key Chains, Magnets,  and Buttons!
Purchase your School of Dragons key chains, magnets and buttons at Zazzle.com.
---
School of Dragons Mugs
Choose your drinkware and make the coolest mugs at Zazzle.com.
---
School of Dragons Mobile Cases and Sleeves
If you want your mobile cases and sleeves to have a touch of Vikings and dragons, you can customize it at Zazzle.com.
---
Other Cool Items
Zazzle.com is one of the best places for you to find personalized items that make great gift for your loved ones who are crazy about Hiccup and the gang. Here are some more items for you to check out:
---
School of Dragons Wallpapers
Looking for School of Dragons desktop wallpapers? Here are some that we found online. All yours! Just click and save.
---
NOTE: We are looking to improve this page – if you discover some School of Dragons gifts sold online, please leave a link in comments below. Or you can leave just an image of the merchandise, and we will make sure to find out where it's sold at!
If you like, let us know what products are on your wishlist