You probably have been searching online on how to get married, get a boyfriend, have babies or buy a house in Habbo Hotel. Well, here you will find all the answers!
Just What Is Habbo Hotel?
This is a wonderful online community for players who are 13 years of age or older.  If you are not 13, sorry you can't join until you are.  You will create your own character, design your hotel rooms, meet new friends, chat, arrange parties, take care of your pets and play games.  This is all about having a really great time in a safe and interesting environment.  Joining is absolutely free to join and you will never be at a loss of things to do!  You have various options for purchasing Habbo credits to buy things such as furniture and other accessories. Please Note:  If you are under-age, you must have your parents' permission.
How To Get a Boyfriend in Habbo Hotel?
You will meet many friends by attending singles clubs or hanging out with your friends at the local cafe.  Over time, you will find someone who seems special and will spend more time with that special person.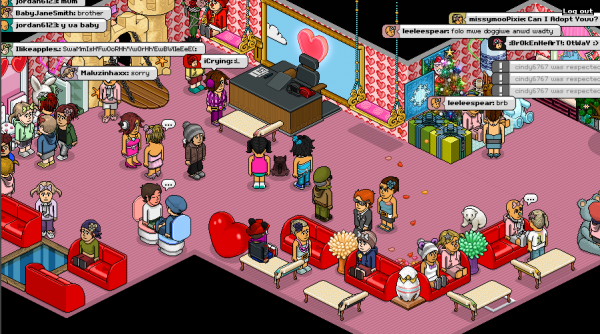 You can dress up and visit a nightclub where you can dance near a boy you are interested in.  Don't be shy – walk up and give them a compliment and get a conversation going!  You can ask them if  they would like to go out sometime, but if they say No because they are already taken, that's fine!  You've still made a new friend!  If they are up to going out, choose a really romantic restaurant or a really cool Pub!
This also works for you boys looking for that special girl!  Spend some time together and then decide if you want to start dating or even propose to her! Check this video on  how to get a girlfriend in Habbo Hotel.
Please enter the url to a YouTube video.
How To Get Married in Habbo Hotel?
So, you want to get married in Habbo Hotel but you can't seem to find any information on the subject.  We might just have the answers you are looking for!
Okay, so you have been a player on Habbo Hotel for a while now and cannot figure out how to get married.  Obviously, this is a virtual marriage and not the real deal!  The first thing you want to do is recruit a Habbo priest to conduct the ceremony.  You can invite friends to your wedding and even get one of your friends to play the part of the priest. This game is all about role-playing!
Please enter the url to a YouTube video.
Choose a really exotic, romantic location for your wedding and you are set to go!
How Do I Have Children in Habbo Hotel?
Well, you won't actually, but you can adopt another player to play your child.  This is the only way in Habbo Hotel to have a baby!
Can I Buy a House?
When you first create a new account, the default room that Habbo has created will become your home room.
This game is a whole lot of fun in the genre of role-playing.  Meet new friends, hand with old friends and enjoy yourself!  Dress to fit your personality and style and find some special boy or girl to hang with!