Here is a list of games that are similar to Fashion Rush.
Fashion Boutique
Join Maya as she travels to different stores trying to improve their sales in Fashion Boutique. Assist her as she turns problem stores into trendy fashion outlets. Help the customers find what they want and offer them 'perks' to keep them satisfied. You and Maya can make a winning team in Fashion Boutique.
Fashion Fits
You play as Francie, an new employee of Uber-Mart Clothing store in Fashion Fits. As Francie you'll clean the store (and dressing rooms), re-stock inventory, run the cash register and keep the customers happy. Learn the ropes in this fast paced game and work up to open your own store in Fashion Fits.
Juliette's Fashion Empire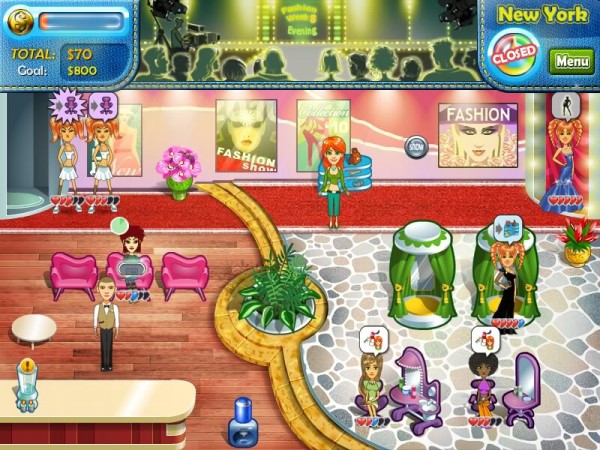 Build your own fashion empire as Juliette in this fast paced and exciting game. Explore the famous fashion cities; prepare models for the cat walk; upgrade equipment; hire staff; and build your empire. Explore the fashion world and help Juliette become one of the most successful designers in Juliette's Fashion Empire.
Fashionista
You are the editor of the glamorous Fashionista Magazine. Hire personnel, buy clothes and explore the town as you work to sell as many magazines as you can. Dress up a model in the latest fashions for display in the magazine. Expand your business and more options open as you become successful in Fashionista!
Fashion Rush
Join Satine as she starts her quest to become a fashion expert by designing her own line of fashion and opening her own shop in Fashion Rush. Take orders, design new clothing, supervise employees and deliver orders to customers. Work quickly in this fast paced game as you help Satine in Fashion Rush.
Fashion Dash
Ride along with Coco as she reaches for fashion fame in Fashion Dash. Help her along as she gives advice to customers, takes there measurements and gets the seamstress to sew the order. Follow Coco as she makes her fun filled rise to fame in the fashion world in Fashion Dash!
Fashion Craze
Help Maria run her aunt's fashion store in the fun filled, thrilling world of Fashion Craze. Maria is a journalist and has no concept of fashion retail. You will have to help her take orders from the customers, keep them happy and run the store. Get ready to have fun in Fashion Craze!
Gala Stories
You like creating your own fashions and have an eye for what's trending, so Galastories is the right game for you! Earn praise and points for your models as you move through over 2500 different quests in this 'fashionable' fashion game. Shop, explore, design and much, much more in Galastories!
Fashion Story
You know you've always wanted to run your own fashion store and now you can in Fashion Story. Decorate you store, customize your avatar, buy and sell merchandise and visit other store owners. Create your own unique and personalized fashion boutique and be your own boss in Fashion Story.
If you're looking for other games like Fashion Rush, check out the Fashion Worlds category.