Here is a list of games that are similar to Digital Dollhouse.
Fashion Fantasy Game
Want to know what it's like to be a real fashion designer? Then Fashion Fantasy Game is for you! You will design and sell your clothing designs not only in your boutique but also to virtual buyers as well! The opportunities are endless in this high end competitive game of the fashion world!
Doll and The City
If playing with dolls was your thing when you were growing up, Doll and The City is a game you will fall in love with! You can pick the doll of your choice and then dress her in the latest styles and fashions.
Weekend Party Fashion Show
Weekend Party Fashion Show is the perfect game for anyone who enjoys making sure everyone is dressed perfectly for an event. Your job is simple, yet challenging. You must dress a variety of models for their particular events, whether they are going to a cocktail party or a gala.
Zen Fashion
Zen Fashion is a puzzling matching game that requires you to match tiles that are the same. Even though it sounds very easy, it's anything but simple. As you make your way through the levels, you have to not only counter the speed of the game but also the overall difficulty. This game is very addictive.
Movie Star Planet
Are you tired of running into unpleasant people when playing on a social environment? Well, you will be able to customize your character and much more without having to worry about running into those types on here as it is well monitored for your safety and enjoyment. What are you waiting for?
Fashionista
Fashionista makes you the editor of a world fashion magazine and allows you to use your creative juices flow in creating a best-selling magazine. The task is not simple but your assistant will give you advice and if you dress your cover model in the latest fashion, there's no way you can go wrong.
Fashion Designer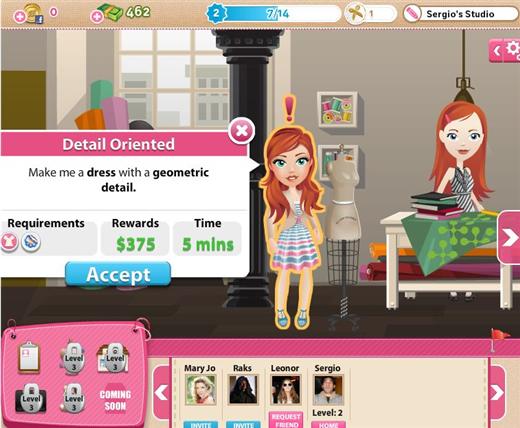 The game Fashion Designer gives you an opportunity to build a world-class portfolio and give you a glimpse into the amazing world of fashion design. You will individually work with your clients to design exactly what they want and need, while at the same time building your portfolio for higher end clients.
If you're looking for other games like Digital Dollhouse, check out the Fashion Worlds category.