---
Chit Chat City Custom Tees
I don't think Chit Chat City offer real tees at the moment. I've searched everywhere but failed to find any real items for sale. So, here's a helpful tip for you – create your own!
There's this really cool website that you can go to if you want to design your Chit Chat City teeshirts. Check out spreadshirt.com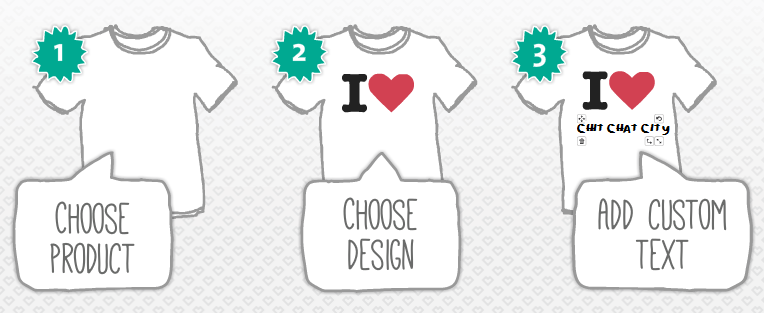 With these few simple steps, you can easily make your custom-designed teeshirts. Choose your type of clothing, it could be sweatshirts, tees, tank tops, hoodies and more. Choose design or upload your Chit Chat City images. And you can also add texts if you like.
See examples below:
---
Chit Chat City Bags
Would you like your bags to have a touch of Chit Chat City? Here are a few examples cosmetic bag, drawstring backpack, and messenger bag. Get it now at Zazzle.com.
---
Chit Chat City Key Chains, Magnets and Pin Buttons!
These accessories like key chains, magnets, and pin buttons are available at Zazzle.com.
We made a few examples for your inspiration:
---
Chit Chat City Mugs
Personalize your mugs at Zazzle.com.
---
Chit Chat City Mobile Cases and Sleeves
Make your mobile cases and laptop sleeves unique with your Chit Chat City designs at Zazzle.com.
Here are some examples:
---
Other Cool Items
The list is endless and there are more awesome items to choose for you at Zazzle.com. Create and design your Chit Chat City desk organizers, bluetooth speakers, wrist watches, gel mousepad, throw pillow,  leather wallet, ring binders,  and many more.
---
Chit Chat City Wallpapers
Keep your characters or avies alive on your desktop with these wallpapers.
---
NOTE: We are looking to improve this page – if you discover some Chit Chat City gifts sold online, please leave a link in comments below. You can also leave an image of the merchandise, and we will make sure to find out where it's sold at!
If you like, let us know what products are on your wishlist