You've probably been searching the web looking to find out whether the Better Life Virtual World is a real game. Well, the short answer is NO. But don't hurry out just yet! I have a very close alternative for you. (For those in a rush, here it is.) For the rest of you, I would like to say a few things about this show, and to tell a story on how I investigated, to find out if the Better Life game download exists.
First of all, I loved "The Suite Life on Deck" TV Series! A famous sitcom episode (titled "Goin' Bananas", Season 2 Episode 7), just because it features a virtual world game, called Better Life.
After watching it, I searched and searched online for Better Life virtual world, but no luck.. I even went to BetterLife.com, but all I found was a Vitamins and Supplements store, lol. I even checked betterlife.com out on Wayback Machine (which shows the historical view of all internet sites). I put in betterlife.com, and searched for 2009 September, to see how it looked like when "The Suite Life on Deck" episode, mentioning Better Life online game, aired. Nada. Vitamins and supplements. Eish.
So basically I found out that the story was like this. At the time, in 2009, a virtual life game, called Second Life, was a real hit (It is actually still very popular today). The writers of the sitcom were looking for something 'cool and hip' to make an episode about, when they decided to feature a great invention – virtual life game. Because of legal reasons, and not to advertise the Second Life game for free, they chose to use a fake game name, which sounded close enough to Second Life – Better Life Virtual World. This is it! Ah, and also, they did not use the 3D animations from Second Life – they created their own. In fact, the real Second Life has waaay better animations and beautifully done 3D characters, than the Suite Life on Deck's creation.
In any case, it was really funny to watch Woody spend all of his time playing a virtual reality game.  His avatar was named "Brock". Here is Woody and his 3D avatar. Good avatar choice 😀
He had a virtual girlfriend named Peaches (who turned out to be Addison). She was waaaay cuter in real life, than in the virtual game, lol. Here is Peaches and her avatar self.
Cody told Woody that he can't live his whole life through a virtual reality game. But of course Woody was so deep in the game, that Cody had to get a virtual character himself, to speak to Woody via his favorite virtual game. Here is Cody and his avatar 😀 😀 😀
… :D:D:D
And the cutest moment is how Brock (Woody's avatar) was holding the Kitty Cat (Cody's avatar):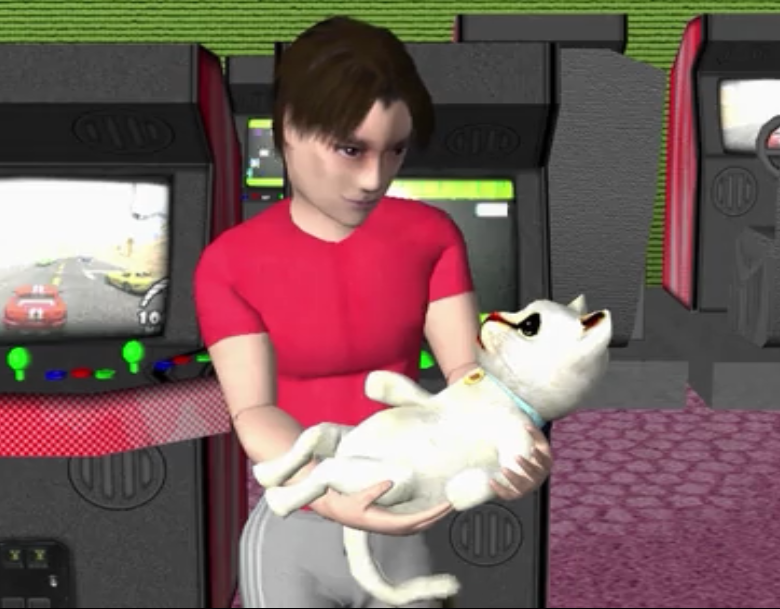 I was laughing so hard :D:D:D ROFL
Then, after watching the episode, I was thinking.. Hmmmm…  I want to try it also! I want to get a virtual avatar, a virtual house and a virtual girlfriend! And so I did. Hehe, I am now a fan of games like Second Life, and that's why I created this website. To tell you honestly, the closest real life alternative to Better Life Game is Second Life. After that, IMVU. For more, just look through the list of 3D chat worlds that we have here.
Creating your own virtual world can be a thrilling and exciting thing to do. With your own virtual world, you can design it to look exactly as you want, and visit your world daily to see how it has progressed, and how the residents of your virtual world are doing. The glory of building a […]