Creating your own virtual world can be a thrilling and exciting thing to do. With your own virtual world, you can design it to look exactly as you want, and visit your world daily to see how it has progressed, and how the residents of your virtual world are doing. The glory of building a virtual world is that it almost never gets boring; there is almost something new to do every day. Nowadays, there are many websites and online games that enable you to do this. Here are just a few
My First World
My First World is a kid friendly online game for creating virtual worlds. It is designed especially for children, so parents can be assured that their child will not encounter any unsuitable material while viewing the website or playing the game. It has a colorful, kid friendly interface that is easy for children to navigate. In this game, kids can build their own virtual world themed website. On the website, you can add as many pages as you want. You can also add free features such as a guestbook, video gallery, and news scrolling page. The websites can also connect to social media networks such as Facebook, Twitter, and more. The best part is that you can create your own virtual world. The virtual world includes all of the features of a virtual world, such as avatars, jobs, an arcade, quests, shops, and much more. You can even have your friends play it.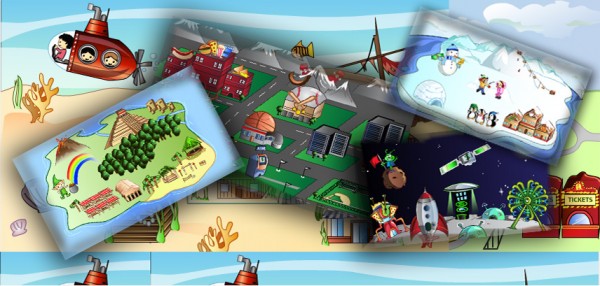 Signing up to create your virtual world website on My First World is simple. You can choose to connect through Facebook, or manually enter a username. Once you have completed the log in details, you can choose a name for your site. As long as it isn't already taken, it can be anything you want. At this point, you will choose other things such as the currency, levels, and a description for your site. After this, you will have to make a header for your site. This can be a custom header or a free pre-made header. Then, pick a map. This is the map that visitors to your site will use to find locations in your town. That is all it takes to make your very own virtual world site!
Next comes all of the details to   personalize your virtual world. This is the time when you make all of the shops, jobs, games, and missions, choose the design, create a chat room, and customize the user panel. Each thing can be personalized just the way you want it. For example, with shops, you can choose the name and the picture for the shops. Pick all of the details for the jobs, such as what jobs users can do and what level they have to be to do the jobs. In addition, you can choose what games you want to add to your site, like Pac Man or Frogger. Advertise your site all over the internet to encourage new users to join. Also, make an account by clicking registration and entering your info. Also, create a group and get others to join and enjoy your website. Then, you will have an account for your own world.  Just like that, you will have you very own virtual world website. It is open for all to visit, and all for a small price. Your world will be its own virtual world in itself, and visitors can enter your world, create avatars, do jobs, and get the full experience of a virtual world. And this is all entirely your own creation.
Meshmoon
Meshmoon is an online service that allows you to create your own personalized 3D spaces in as little as one minute. It is as simple as choosing one of the public layers or applications that you need, and you are set to create your virtual world. It is free for users to use. All that is necessary is the free Rocket client. For world builders, there are a variety of plans that vary in price, with the cheapest being free. With each slight price increase, more things become accessible such as an increase of maximum users, storage, and the number of spaces that the user can create. The features include the Rocket desktop client for Mac and PC, the Rocket web client, an easy administration panel, and presis for easy 3D presentations. It also includes an automatically scaled cloud infrastructure. In the applications store, you will find free and paid applications. There is also scene layering, Collada avatars, 3D cave support, and Meshmoon EC components and documentation for artists and developers.
To sign up, all you have to do is complete a simple form in which you will be asked your name, password, address, and other information. You can also choose to log in using a social networking website. After that, you can create a profile. If you chose to log in with a social media website, then your profile will be already created for you. If not, then you will just have to input the basic information to create your profile. After that, you can create your 3D space. The process for this is rather quick and can be done within a minute. If you need any help or guidance for creating your 3D space, detailed tutorials can be found on the website. There you will see videos that provide a step by step look into how to log in, and use the avatar editor, amongst others. Otherwise, it is fairly easy to use and it doesn't take a computer wiz to create a virtual world. Finally, you can review and enjoy your new 3D space.
Kitely
Kitely is a website that provides users the opportunity to create their own virtual worlds using OpenSim technology. You can make your own worlds and visit other worlds that people have designed and created. With each account, one free virtual world is included. In the virtual worlds on Kitely, you can do a variety of activities which include playing games, making and chatting with friends, view art, watch musical performances, role play, and do a variety of other activities. While the majority of the worlds are suitable for all ages, users can also create mature themed worlds for adults only.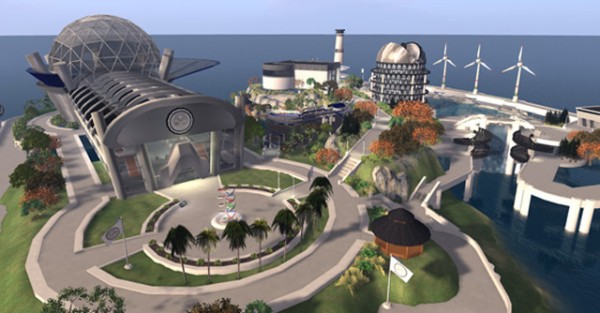 The worlds you create will be protected by backing them up on OAR files. The worlds you export can be used outside of the website on your own computer or on another OpenSim hosting service. The worlds you create will be protected since the sight prevents them from being exported unless you choose to allow them to be exported. If someone else tries to back up your world without authorization, then it will be taken out of the OAR file they receive. It offers both a closed grid and the option of an open grid and sharing your creation with others. Worlds can be made public or kept private, whichever is your preference. You can create as many worlds as you want. Privatize your worlds or have them open to the public so that anyone can see.
Creating your own world in this game is really simple. You can create your first world in a matter of minutes. With Facebook connect, your profile will be created instantly, so you can begin world building. You just have to launch the Second Life compatible viewer and you can create and enter a world in minutes. This service is also very inexpensive to use. Since it is cloud-based, you only pay for use, which is 20 cents per hour. Sharing is also as easy as sharing an URL.
Active Worlds
Active Worlds is a platform for creating effective three dimensional online experiences.  It is the largest 3D virtual world out there today. Over a half billion objects have been created on this website so far, and there are hundreds of thousands of users. You can create a range of different 3D worlds which can be used for conducting business, educational classes, or just socializing and meeting like minds. There are a variety of things you can do in such as communicate with the users from around the world. If you speak a different language, you can communicate with native speakers of that language. Decorate your 3D home with furniture and fixtures of your choice. You can also invite friends to your 3D home, and even upgrade it to a much larger home. Customize your character by dressing it up in the clothing of your choice, changing its hairstyle, and its overall look.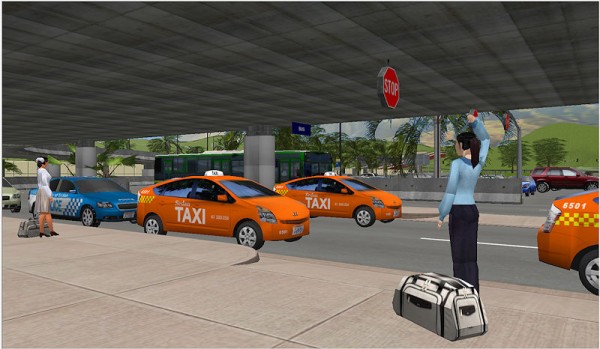 ActiveWorlds is a world in itself. You create your own virtual persona and explore the thousands of worlds, meet people from all over the world, and enjoy the various activities. Play games, go shopping for items to customize your avatar and 3D homes, chat with friends or make new friends—the possibilities are endless. To top it off, it is completely free to use. However, for a small fee you can become a citizen and get access to hundreds more worlds and your own citizen name, access to an instant messaging service, and a wider variety of customization for your avatar. You can enjoy the world just as much without paying the fee.
In this virtual world building sight, you can build almost anything you imagine, from a simple house, to a mansion, and even a spaceship. There are a variety of building worlds, and even classes for novices. Your avatar is the extension of you in this game, and you have a plethora of ways to customize it. There are loads of items, hairstyles, and clothing that you can obtain to make your avatar just the way you want it. Avatars can do a range of things like fly, jump, run, and show emotions. Your avatar can literally be an extension of you; create your avatar in your likeness or however you desire your avatar to look. In the many gaming environments you can take part in real sports like hockey, bowling, soccer, and games like chess and checkers. If shopping is more of your forte, then this site has you covered with the multitude of shops open for users to visit. Most important are the 3D chat features. You can create buddy lists, engage in instant messaging, and even transfer files. A brand new adventure awaits.
Open Simulator
Open Simulator is an open source 3D application server for multiple users. It can be used to create a virtual world which can be accessed by a variety of different clients. Users can also use an optional facility to access other Open Simulator installations from around the web from a home installation. With Open Simulator, virtual world builders can customize their worlds using the technologies that they prefer. The framework is designed to be easily extensible. It can be used to create environments similar to Second Life right out of the box. It also supports the core of Second Life's messaging protocol. However,  it should be noted that this is nowhere near being a clone of Second Life, but sets out to be something completely different.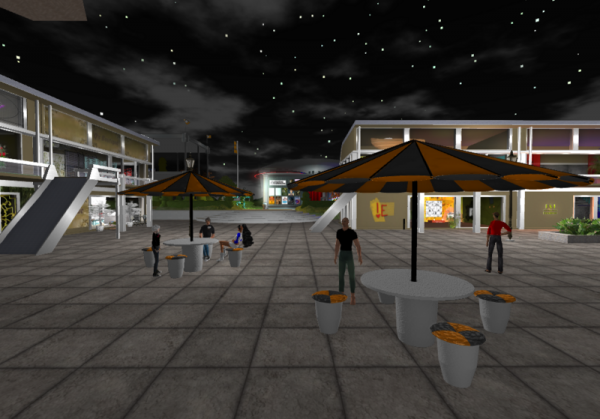 It has a variety of features for creating virtual worlds. Open Simulator supports all sizes of 3D environments, from one simulator to thousands of simulators. At any single moment, it can support virtual worlds of varying sizes. Since it supports multiple clients and protocols, you can access the same world with different protocols. It also supports real time physical simulation, along with clients that create 3D content in real time. Inworld scripting and a variety of languages are also supported. There is also the possibility to customize the virtual world using scene plug in modules.
As you can see, there are a variety of platforms which you can use to create your own virtual world. There is one for every type of virtual world you would wish to create. Whether you simply wish to enjoy the world for fun and meet others online, or you intend to conduct business or educational classes using a virtual world, you will find the platform for you amongst these.
If you want something less complicated where you can simply build your own house in a ready made virtual world, play games, interact with other people, enjoy tons of fun activities, then be sure to see our list of Social Chat Worlds.