---
WeeWorld Cash Cards
Get exclusive items with WeeWorld Cash Cards! Shop for pets, accessories, clothing, and more.
Where to buy cash cards? Check it at the following stores near you.  Toys R Us, Safeway, ShopRite, Stater Bros., Price Rite, Albertsons, Giant Eagle, United Supermarkets, Shopko, and Kroger.
You can also top-up your account with Rixty. Here's the instructions on how to purchase at WeeWorld using Rixty.
---
WeeWorld Store Gift Cards
A perfect gift for someone who loves WeeWorld is a gift card. Do you know that you can even personalize your gift cards? For more info, check out WeeWorld's Gift Card.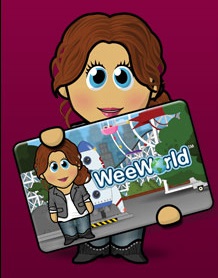 One other gift card option is through Gift Card Mall.
---
WeeWorld Clothing
You can purchase these cool WeeMee tees for you and your pet at WeeWorld Gift Shop.
---
WeeWorld Key Chains, Magnets and Buttons!
If you're looking for little gift for yourself or for someone close to you who's a fan of WeeWorld, then you will love this keyring and it's available at WeeWorld Gift Shop.
Other than key chains, you can also create your own WeeWorld magnets and buttons at Zazzle.com.
---
WeeWorld Mugs
Design your mugs with your favorite WeeMee at Zazzle.com or WeeWorld Gift Shop.
---
WeeWorld Cases and Sleeves
Add a little WeeMee artwork to your gadgets' cases and sleeves at Zazzle.com or WeeWorld Gift Shop.
---
WeeWorld Bags
Can't get enough of WeeWorld? Here's another idea for your tote bags, cosmetic bags, drawstring backpacks, and messenger bags. Customize it at Zazzle.com.
---
Other Cool Items
If you still haven't found what you're looking for, there are certain custom-made products that can be found at Zazzle.com like desk organizers, bluetooth speakers, lunchbox, wristwatches and more.  You can also check oout some of WeeWorld's items at their Gift Shop. Enjoy your shopping!
---
WeeWorld Wallpapers
Here's a bonus for you! Decorate your desktop with these cute WeeWorld wallpapers. Free of charge! Just click and save.
---
NOTE: We are looking to improve this page – if you discover some WeeWorld gifts sold online, please leave a link in comments below. You can also leave an image of the merchandise, and we will make sure to find out where it's sold at!
If you like, let us know what products are on your wishlist