Here is s list of games that features Selena Gomez.
Selena Gomez Makeover
Selena Gomez needs to look glam, but that can only happen with your assistance. Help her by using the hairstyles, make up, clothes, and accessories available to create the perfect outfit. There are several options available so finding something appealing for the young star to wear is going to be easy.
Selena Gomez Star
Uh oh, Selena is late for her concert! Help her to get ready by dressing her in something perfect for the young star. She has to look fantastic and get the attention of everyone around her, which is going to be an easy job with the many options available to you in this game.
Make Up Selena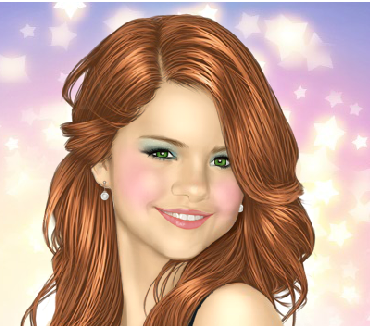 Selena is famous for her work in popular television shows, movies, and music, but she still needs help at times. Today, you are going to be there to make sure that her make up is just perfect. Create something appealing and help her to look great for the day ahead.
Selena Bday Party Coloring
Well, this is no good! Selena's stylist has yet to show up, but she needs to be out on time to make it onto the red carpet. Use your skills to give Selena the perfect outfit just in time for her to go, proving that you are just as good as, if not better than, the professionals.
Selena Gomez Dress Up
Help Selena to find the perfect outfit by going through the many items available and creating something spectacular. You will be able to give her the stylish look that she deserves while having a lot of fun in the process, all while unleashing your creativity in this small and simple game.
Selena Coloring Game
This coloring game gives you the chance to color one of your favorite actresses and singers, Selena Gomez. Color the various parts of the picture, from the skin to the clothes that she is wearing and everything else that you can see, until it is finished and done to complete perfection.
Selena Dress Up
Dressing up celebrities is an exciting experience, but something that many people never get to do. In this game, you have the chance to dress Selena Gomez up in the top, hottest fashions so that she looks good and so that you can have tons of fun in the process.
Celebrity Make Over 2
With such a busy life, Selena Gomez has a hard time focusing on the simple things, like finding the perfect outfit. This is why stars usually have people who can help, and that person is going to be you. Help Selena look good for her fans and show the world her new appearance.
Castle Wedding
Everyone has a castle wedding dream, and that dream is about to become a reality for Selena. Before this can happen, however, everything needs to be ready. Since she is the bride, it is your job to make sure that every piece of the wedding is perfect and all that it should be.
Celebrity Makeover 4
Hoping to win an award, Selena needs to show up to this awards show in style. She has to impress everyone and look good in the process. You are going to make that possible by putting together a spectacular outfit that is sure to turn heads and have all eyes on her.
Selena at the Beach  Dress Up
Getting ready for the beach, Selena is going to need an outfit that makes people's minds go crazy. Put together a look that will make everyone scream and wish that they could look as good, or that they had your talents when it comes to putting together an outfit.
Selena Dress Up
The game is simple: Make Selena look good! Doing this is going to be exciting and fun as you go through the various clothing items available to put together a unique, attractive outfit. If you are tired of what is currently there, find other clothes and play until you are happy with how she looks.
Selena Gomez Style Dressup
Before Selena can do anything, she has to look good. She is a star and she always has to be at the top of the fashion world. With your help, this is going to be easy and fun. Dress Selena up and the best fashions and make sure that she looks absolutely stunning.
Selena Girl Makeup
Selena needs help with her make up and overall outfit. Today, that help is going to be you. By putting together an attractive and interesting outfit that is sure to catch all of the right attention, you will be able to give Selena the style boost and glamorous look that she needs.
Glamorous Dressup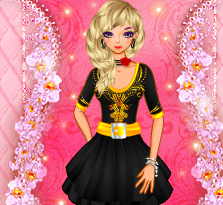 As a celebrity, Selena Gomez is going to want to look her best. She has to impress people and she has to make a name for herself, or at least stay at the top in the fashion world. Make sure that this happens by choosing the best clothes that you can find in her wondrous and massive closet.
You can also check out our list of Pop Star Games to enjoy fun time with your favorite celebrities.