Download List
Here is a list of games and virtual worlds that require you to download to play. Among the top metaverses on our Download category, are Second Life and IMVU. It is where you can create a 3D avatar, dress up, and meet new people form around the globe. If you are allowed to download, then good for you. You will surely enjoy and not regret this. But some of you are restricted to download to your computer, so we have prepared a list of browser-based games or No Download Virtual Worlds for you. We hope you'll like it and have a wonderful time in these fun virtual worlds!
8.2
January 1, 2017 -
Singing can be super fun and it can be even more fun when you are doing karaoke with you best friends along with you. Now not everyone wants to sing out in public which is… Read More »
7.9
January 1, 2017 -
OpenSimulator is an open source multi-server platform that can be used to create multiple virtual worlds. It is compatible with the client for Second Life, and can also host other alternative worlds with multiple protocols… Read More »
Bonus Featured Games

8.1
Virtual world, full of gaming lounges where you can walk around making new friends, interacting and playing mini games.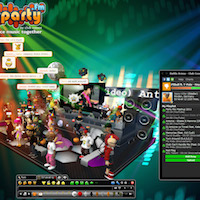 9.2
Explore, Chat, Dance - this virtual world is sooo much fun! Dress up your 3D Avatar. Create and decorate your 3D chat rooms. Play games. Join in!
');/*]]>*/