YoWorld, formerly YoVille, is a wonderful 2D Life-like simulation game. Facebook members can play, work and chat together within this awesome animated world.
You create your own life within this virtual world where the sky is the limit! You can adopt a pet, customize and decorate your home or just socialize with others.
You can live in a fairy tale castle or beach front property. Have loads of fun with motorcross races with other friends or go out an eat, throw parties or just drop by your friends' places to visit.
About the Game
Like other simulation games, you can customize your avatar, design and decorate your home and interact with other players worldwide. While creating your avatar, you can choose a name, select a room style and start great adventures in order to make new friends and money.
Fun Activities
The Fashion Store is the place to choose great outfits for your avatar. Change your entire look with shoes, shorts, shirts, pants, dresses and so much more. By visiting the Boutique, you can buy more stuff when you feel like a change.
The Widget Factory is where you work every six hours so you can get paid.
The Furniture Store is the place to go for a wide variety of furniture and electronics.
How about a night on the town by dropping by the Nightclub to dance the night away and even get a little tipsy!
Stop by the Casino to win coins by playing the slot machines.
Need to get your home looking awesome? Stop by Yodepot for building materials like floors and windows.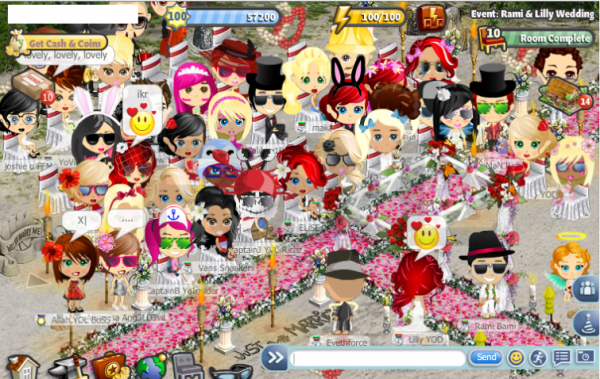 For more screenshots, click here.
There are so many fun activities, that boredom could never set in. While exploring YoWorld you will also find Yo Valley Ranch, Vinny's Diner, Salon, the Music Store, Realtor Office or go to the beach.
Summing Up
YoWorld is a creation of Zynga for Myspace and Facebook users. You can invite your friends to join in on the fun, visit friends' homes and send gifts. Not only is this a great game, it's free and will give you hours of fun that Zynga games are known for. If you love Zynga games, you will fall in love with YoWorld.
Watch more videos on their YouTube channel: YoWorld on YouTube.
YoWorld is free to play.
Sooo, did you think this game looks cool? If yes, Like!