NOTE: this game has been discontinued. Find similar games here: Social Worlds.
ResLive, now Wet.Fm is a dancing game that is fun for everyone. Instead of many popular browser games that feature fighting monsters and collecting gear, this RPG is all about dancing and who can create the best dancer. As you complete competitions and face tougher and tougher opponents you can work to level up your dancers and also buy more clothes, accessories and ways to set your dancer apart from others online.
This game is also in 3d so the graphics are great and you can really see characters and dance moves quite well and all of the character options and changes that you make throughout the game.  As you are dancing there are some great visuals in the background like sandy beaches and real water reflections. Your character dances in a variety of different areas each that is a bit unique and flashy.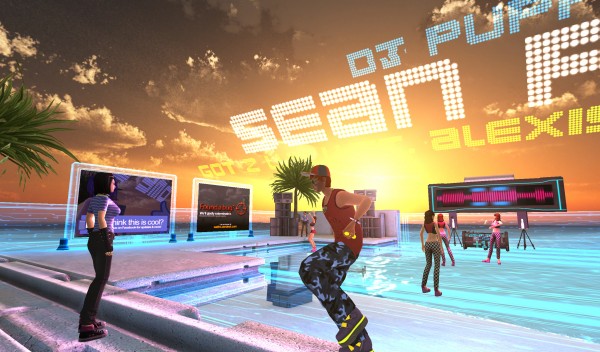 The songs in the game are also pretty good too. The game comes loaded with over 40 songs that your character can dance to and learn new dance moves for. As you progress through the game you can unlock new songs and also learn new dances to go through them.
The way that you dance in the game is a bit different than a dance dance revolution game. The main idea of the game is to train your dancer to follow the steps and to perform the dance to a song. The game is much more of an RPG than an action rhythm game.
A great play mode is the party mode or room creation mode. By creating online rooms you can select your favourite songs that you have unlocked and have your character dance to them while other people online will jump in and dance along with your character or against them. By going into different rooms you can see how other people are doing at the game and also earn some easy points. When people join into your rooms you can also work to socialize with them and earn extra experience and rewards for picking songs that people like.
Because Wet.Fm has such a social element to it, the game is very fun to play with friends or to make new friends while you play the game. Opening up your own room and working to customize your avatar is a great way to express your own personal style and to unlock other features of the game.
Wet.Fm is also constantly updating with new songs and environments. The developers have a partnership with some great DJ's who produce new songs all of the time. The song list, items to change your character and environments are constantly changing which keeps the game fresh and new as you play.
For more screenshots, click here.
If you are interested in finding a good game that combines RPG elements with good music and dancing as well as fashion, Wet.Fm can do just that. Connecting with your friends and building the career of a virtual online dancer is very fun once you get started and you will be surprised at just how much wet.fm has to offer.
Watch more videos on their YouTube channel: Wet.Fm on YouTube.
Wet.Fm is free to play.
NOTE: this game has been discontinued. Find similar games here: Social Worlds.
Sooo, did you think this game looks cool? If yes, Like!