NOTE: this game has been discontinued. Find similar games here: Chat Worlds.
vSide is a virtual world that is free and allows you to play virtual games, fashion games, or simply chat while engaging in 'next generation' fun. The game allows you to do a lot of activities such as dance with your friends while listening to music, and much more. You will find that vSide is a lot like the other virtual worlds Second Life, Habbo Hotel, and IMVU.
Like many other virtual worlds you can create and customize your very own 3D avatar, make new friends, or decorate your own virtual room. The game sets itself apart through features such as the dancing services where you are able to flirt with your beloved girlfriends.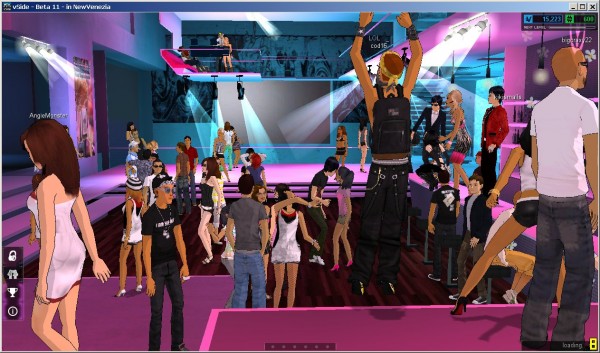 General Overview
If you wish to just be crazy, then be crazy! You can use the world of vSide to explore cool music and dance from many music genres like indie rock, hip hop, and other top club hits. If you are into a certain type of music, then you will find it in vSide.
Although not all virtual worlds offer mini games to play, you will find many games at vSide such as: Pillow Fights, Sumo Wrestling, Dance Competitions, 3D Tetris, 3D Mazes, Zombie Hunt, or Trivia competitions.
One fun thing to do if you are interested is join in the lively game of "Zombie Hunt"; you will find it fun interacting with huge groups of the undead.
If that's not your idea of fun, you can let your creativity show by creating your own virtual games and custom events such as costume competitions or dance offs.
General Gameplay
Once you are ready to play you begin by creating your own avatar. You will then be ready to take part in many activities such as shopping for clothes, making friends, chatting, dancing, listening to music, attending parties or other events, decorating your apartment, or even hosting your own party.
The game is mostly focused around music, fashion, and partying which are the three things you teens love the most! You will love customizing your virtual person using over 3,000 of the sexiest clothes, hair styles and accessories.
With vSide you no longer have to settle for boring, dull games like Asteroids or Pac-Man. This game was created in the age of Facebook where the games feature social interaction where you can express yourself online. What better way can you feel cool than by chatting and hanging out with our friends while you are all dancing and listing to music in the virtual world?
You will love vSide as it really touches into the next generation of gaming because of its unique social features that even those sold for the Wii, Xbox, or Playstation lack. You'll see that games like Dead Rising and Second Life have objectives based on rules created by the designer. More specifically Call of Duty will allow you to witness war and Final Fantasy allows you to explore a realm of magic and lore. On the other hand, vSide is limitless in potential.
For more screenshots, click here.
You will climb the social ladder by customizing your avatar, partying and making new friends. This game is most like either Sims 3 or Red Dead Redemption as you advance through levels to gain "respect" and unlock features in these games. In vSide your score will determine what type of clothes you can use or purchase, the certain clubs you are allowed to visit, and what types of houses you can buy. More specifically you begin with a simple one bedroom loft, but as you advance through levels and gain respect you can get to the top and buy a fancy Yacht.
In conclusion you will love vSide if you are intrigued by games that feature social networking elements like forums, custom profiles, and a blog. You are encouraged to complete your vSide profile with all of your personal interests and a photo. In the end you will find that this 3D world is immersive and full of surprises where you will have a fun time.
Watch more videos on their YouTube channel: vSide on YouTube.
vSide is free to play.
NOTE: this game has been discontinued. Find similar games here: Chat Worlds.
Sooo, did you think this game looks cool? If yes, Like!