Virtual Cat Pet World is an extremely cute game and it is completely FREE! The game is ideal for all ages and the entire family. It allows you to have lots of fun with your little kitten.
There are many different tasks through the game to keep you engaged:
You could feed her and you can even watch her as she eats away her food.
You could allow her to slurp her favorite drink.
You could watch her as she sleeps cutely.
You could play with her!
Groom her so that she looks great and smells great!
Improve her stats so that she a long, happy life.
Check the highest level you can reach.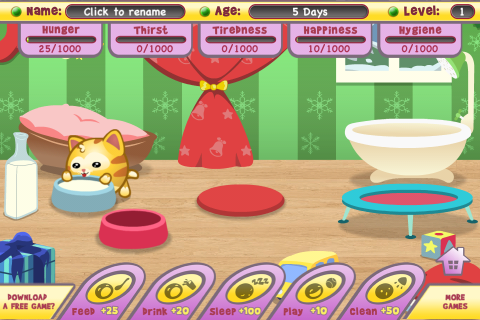 For more screenshots, click here.
When you begin, you will need to name your kitten. Make sure it is just as cute as she is!
Virtual Cat Pet World is free to play.
Play Virtual Cat Pet World NowMore Games Like Virtual Cat Pet
Sooo, did you think this game looks cool? If yes, Like!