Dating sims often have you following a single story without the need to do much else. You do not work; you do not explore; you do not do anything besides talk to the cutest people in town. The Flower Shop: Winter in Fairbrook took a different approach, however, and made this a combination dating sim and farming sim.
In this game, you can meet loads of people, follow the storyline to the end, and lead a wonderful life. This game gives you the chance to do so much more with your time and to have the life that you want for your character, whatever that may be.
Your character is Natalie, a college student who needs to find a job for a little growing up. With some help from her room mates, she does as her parents tell her to do, get a job. This takes her to Fairbrook, where she will be working in a Flower Shop to make some money. While there, she is going to do more than work. She has plenty of people to meet and a love life to ignite, and it is your job to get this started.
If you played the original, you might know a few of the characters. If not, no worries. This game gives you a unique experience and there is no need to play the original to play this one. Once you start, you are going to meet various new people as you move along.
You can develop relationships and strengthen them, or even ignore people. You choose to whom you speak and what you do. If you want to build a powerful relationship with someone specific, you can do it. You are not told with whom you should have relationships, allowing you to make this yours.
If you want to talk to no one, you can do that. You can spend your days working at the flower shop, doing what you do and improving everything. This is a great way to spend your time and ignore everyone, but you are not going to be building relationships in the process.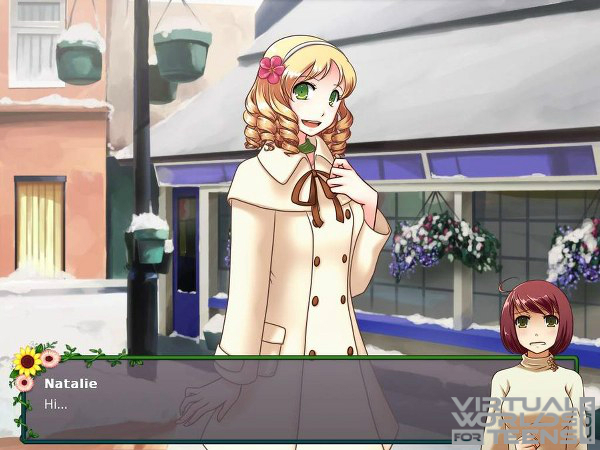 For more screenshots, click here.
This game does not go on forever, of course. While some are infinite and allow you to play forever, this one has an end and an ending. That ending is not the same old thing every time you play, however. It can change with what you do within the game. The people to whom you grow closer and the actions that you choose to make will alter what the ending is. With nine possible endings, there is plenty to see. You can even replay this game and do different tasks to unlock all of the available endings.
You can play this game for hours, doing activities and replaying to unlock new endings. This is an addictive and enjoyable title that is sure to grab many attentions. If you like dating sims but have always wanted something more, something that is unique without sacrificing what you like about the genre, this is the game for you.
Watch more videos on their YouTube channel: The Flower Shop: Winter In Fairbrook on YouTube.
If you can't get enough of dating sims, here's a bunch of Flirting Games for you.
Sooo, did you think this game looks cool? If yes, Like!