NOTE: this game has been discontinued. Find similar games here: Flirting Games.
These high school stereotypes that we have seen in the movies are mostly exaggerations of what happens in real life. Mean cheerleaders, dumb jocks, preps, emos, goths, hipsters and socially awkward nerds are some clichéd examples of how teens are being portrayed in the big screen and everyone may disagree and think it's not like that at all. But you will have to agree that that's what makes it so exciting to watch because we get to see a different set of story from our normal or even boring high school life.
Now, here comes an interactive novel that depicts the story of students, as they face and withstand the challenges that lay ahead of them in surviving high school.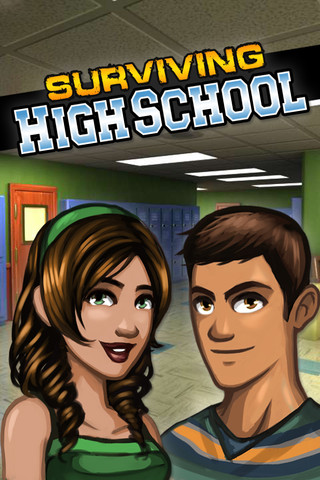 In "Season 1: A New Start," you will be playing as Owen, a mysterious new transfer student at Twin Branches High who's hoping to start afresh and forget about his past. The first day is already packed with drama as you meet some of the interesting characters that will eventually affect you and the lives of the people around you.
Zoe's the first friendly face who approached you and made you feel welcome at school. However Nate, the star quarterback, wasn't exactly thrilled about the attention Zoe has given you and warned you to back off. You may have started off on the wrong foot with a few people on your first day but you still managed to make some new friends along the way.
The main protagonist is Owen by default but you will be switching characters with Zoe, an outgoing cheerleader who's not your typical snobbish popular girl and she's dearly loved by everyone … well, except for some.
Aside from Owen and Zoe, some of the characters are Emily, Ben, Nate, Paige, Wes, Spencer, the cheerleaders squad, football team, hipsters group, game geeks, drama club and a whole lot more.
For more screenshots, click here.
The story's progression depends on the choices you make and you will score up some points that will decide the rank you get by the end of the episode. But you will still be given an option to replay the previous episode if you want to improve your score or you may choose to continue with the next episode if you're too engrossed to even look back. When you complete Season One with a score of 400 or higher, you will be able to unlock a special bonus scene.
There is so much to look forward to in this story and just like any other novel, we can't afford to spoil it all for you. So, if you are a fan of choose your own adventure stories or otome games, this one will not disappoint you. With its engaging plot and fun game play, you will be hooked and probably be unwilling to put down this visual novel unless you are done with all the episodes.
Watch more videos on their YouTube channel: Surviving High School on YouTube.
Surviving High School is free to play.
More Games Like Surviving High School
NOTE: this game has been discontinued. Find similar games here: Flirting Games.
Sooo, did you think this game looks cool? If yes, Like!