Spirited Heart is a romance sim that has you dealing with life, work, and love in various ways. While it is mostly about the romance, this also gives you the chance to improve your character. You will be able to increase skills and do work, which is not normal for this type of game.
Rather than focusing heavily on the love part of the story, you will be able to take breaks and enjoy each part individually. As you continue to play, you will get to improve your character while also progressing in the story. This gives you the chance to focus on yourself as well as the love that your character shares with the man of your choosing.
At the start, you will be able to choose from three different characters. You have a human, elf, and demon available to you, all with different traits. Their strengths and weaknesses will guide your choices later on in the game, making it possible for you to find something suitable to your individual character.
After one is chosen, you will go through a few more steps in the opening of the story. This will have you going through her early life and making more decisions that affect your character's skills. This will help you to create the character that is perfect for you and matches your desires.
Once you begin the game, you have several options ahead of you. Since Spirited Heart does not focus solely on romance, you will get to do more than you might think considering that this is a romance sim. You will get to do work, train skills, and relax while allowing your character to live her life and improve herself.
As you continue on, your character's traits will increase and decrease, but you can always train again to keep them going up. It may take some time, but it is worth it if you would like to see your character become well-rounded.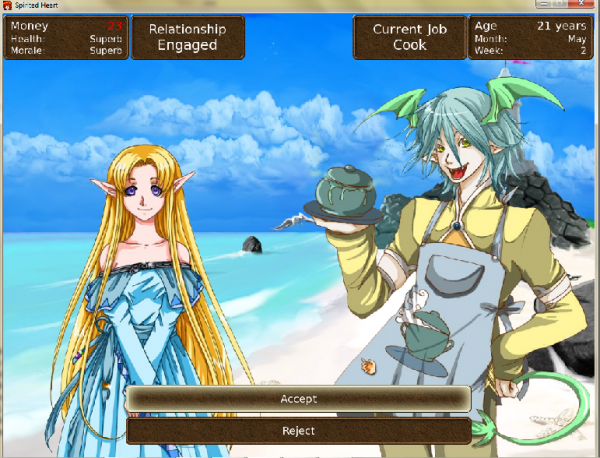 For more screenshots, click here.
Love is still a major focus, of course. You have several potential love interests available to you with Spirited Heart. As you meet them, you will get to expand upon the relationship and open it up. This will help you to find the love interest that you want for your character. You will be able to speak to them and begin forming the relationship that leads to marriage. You can do this while still improving upon your character's traits, though they do take a lot of time together.
The game is over after one of two things happens, either you are married or 10 years have passed. Whichever one comes first signals the end of the game. Do not worry, however, because this game can be replayed. If you would like to do something differently, you can. If you focused more on love than on personal growth, or vice versa, you will be able to do the opposite the second time around. This will help you to have more fun with the game and find a way to make it match your own interests.
Watch more videos on their YouTube channel: Spirited Heart on YouTube.
Spirited Heart is free to play. Do you enjoy otome games? If you want more of these, then it's best you check out our Flirting Games category.
Sooo, did you think this game looks cool? If yes, Like!