SocioTown is a virtual world that is 3D where you can enjoy lots of activities such as catching bugs, fishing, missions, and more. In the game you can advance your way up the social ladder as you work at a variety of different jobs, upgrading your apartment as you move up. You will love SocioTown as it is an entire virtual world where you will earn experience points and continuously level up.
So, what exactly is SocioTown?
SocioTown is a virtual world that is a massive online multiplayer game. In SocioTown you are able to socialize and chat while you build up social status by completing jobs and upgrading your living quarters.
SocioTown Features
100% Web Based
SocioTown is a 3D 100% web-based Massive Multiplayer Online Game (MMOG). The game is played via your browser; with no download required. It uses the Shockwave Player by Adobe which most every browser has pre-installed.
A Great Social System
SocioTown's social system is created to be instinctive and allow you to distinguish amongst your friends and other random players naturally. The system works to make your friendship link become stronger the longer you spend chatting with an individual. Eventually, the person could become part of your inner circle of friends. The best part is that the game does not simply allow you to 'add friends', instead your friends are based on who you communicate with in the world.
It's a Social Network
This game contains the very first social network that is created by real-time chat only. This means that you chat with acquaintances and friends like normal, and the dots will automatically be connected as a Social Network begins to form. It allows you to see a graphical representation of your specific network at any point in time.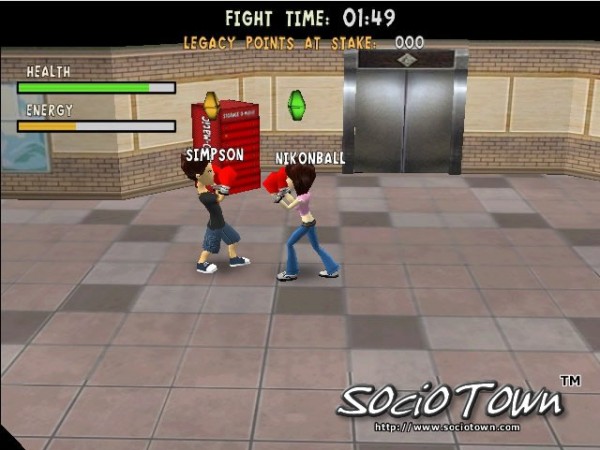 The game's interface allows you to see up to 3 degrees of separation in your network. You can also click and drag each of your connections easily so you can examine the network closely.
Makes use of Dynamic Chat Bubbles
Rather than restricting you to a text window, SocioTown uses dynamic chat bubbles instead. The chat bubbles materialize and connect themselves to other players this makes it easy to see who is talking and where they are at.
Choosing A Place to Live
SocioTown is a smaller town that is still growing where they have lots of apartments that you can move into. Once you choose an apartment to live in, you can begin furnishing every room with many items that are for sale in stores around the town.
For more screenshots, click here.
Browser-Based Virtual World Game
This game allows you to interact with other people from all over the world inside a 3D environment that is lush and appealing. The best part is that you do not have to download anything as it is completely browser-based.
Level-Based Play
The game is not simply a 3D world for chatting. Instead, it also incorporates other elements into the game such as level progression. In SocioTown you can level-up as you earn experience points. This is important because you can only access certain regions of the game when you become a high-level player.
SocioTown is a well-developed and versatile game which incorporates the elements of both solo play and massive multiplayer online gaming. With its rich and fluid gameplay capabilities, it allows for many players to seamlessly meet, greet and socialize online without having to download anything. And with many opportunities for players to level up and various activities to do, there is no end to the fun you can have by yourself and with your friends. So take a step out of reality and into the virtual world of SocioTown today!
Watch more videos on their YouTube channel: SocioTown on YouTube.
SocioTown is free to play.
Sooo, did you think this game looks cool? If yes, Like!