Shikihime Garden: The Best, Most Entertaining Game For Teens Anywhere
Hey Everyone!
I just wanted to tell you about this really great game that has a great combination of deck collecting and creating the world's best garden! Shikihime Garden is the creation of Appiritis, Inc. and is so cute and fun to play!
As you start building your garden and collecting cards, you will find these little princesses on the cards called Shikihimes. Shikihimes literally means Four Season Princess in Japanese and this whole game is designed with the Japanese culture in mind. These little ladies?.. pixies?…princesses? love hanging around in your garden, eating and sleeping the day away.
They each have magical powers that will level up as you move through the game. They will use their special skills to go to battle for you so keep collecting their cards!
You can also collect nasty monster cards if you prefer, they also come with their own unique abilities and skills so you might want to collect both kinds of cards.
Playing The Game:
When you first get into the game, you will get a nice, short tutorial that will show you around and let you know various tasks you need to complete. There is a short story that is in the format of a poem and is very Japanese!
In the beginning, your garden is totally barren so you will want to jump in and start creating the perfect place for your little Shikihimes. You will actually spend quite a bit of time with your garden because this is a very important place within the game. The garden is the place where your little princesses will be healed, should they be injured in battle. You have a rice ball vendor who will make the rice balls for healing purposes. Once you join the guild (we'll get into that in a bit) other players will come by to view your garden, so give it all you've got!
The gameplay of Shikihime Garden is best explained in two halves. First off is the card game aspect; basically you can challenge opponents to strategic duels that have a lot of depth and require you to focus and plan ahead of your opponent to win. The strategic depth is also increased by the fact that some cards have unique actions. While most cards are used to attack the opponent, some cards can play a more supportive role and heal instead of attacking which means that you can completely turn the tide of a fight by utilizing them properly. The variety of cards is great and players will be able to build a deck that's according to their preferences and likings once they progress through the game a bit.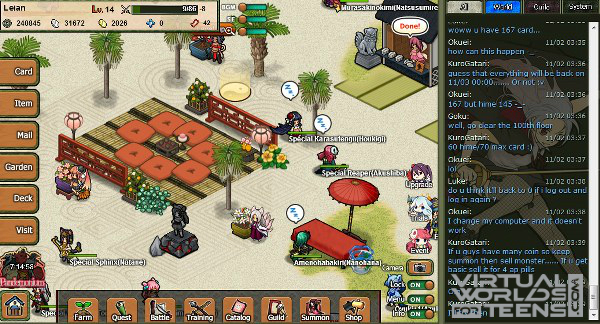 Going Into Battle:
You have the option of using your Shikihimes or Monster to do battle for you. You may switch out your five cards for other cards at any time. This is really a great feature as you might have some cards that have lower abilities then the enemies you are taking on.
You are only allowed ten cards in your active deck but can collect countless numbers of cards and switch them out as you see fit. Eventually, you will probably have 10 favorite cards that you will want to level up to their maximum abilities. This can be done by taking two cards and combining their experiences and skills. Just be careful! If you combine a rare card with another card, you could lose that card!
For more screenshots, click here.
Quests:
You must complete quests in order to continue on through the game and you will receive a lot of great goodies upon completion. These goodies can be used for an assortment of things.
The Guild:
The guild is an awesome aspect to this game and you do not want to miss out on it! One of the quests will allow you to become a member. Once you are a member, you can visit other players' gardens, take part in daily events and even battle with other players!
In Conclusion:
Even if you are not a huge fan of Japanese art or deck building games, you must try Shikihime Garden out! This game is very, very addictive because it is just a lot of fun! The Shikihimes are so cute and loaded with their own personalities. This is, without doubt, a "Girlie Game" – so come on Girls and have a great time!
Watch more videos on their YouTube channel: Shikihime Garden on YouTube.
Shikihime Garden is free to play.
Sooo, did you think this game looks cool? If yes, Like!